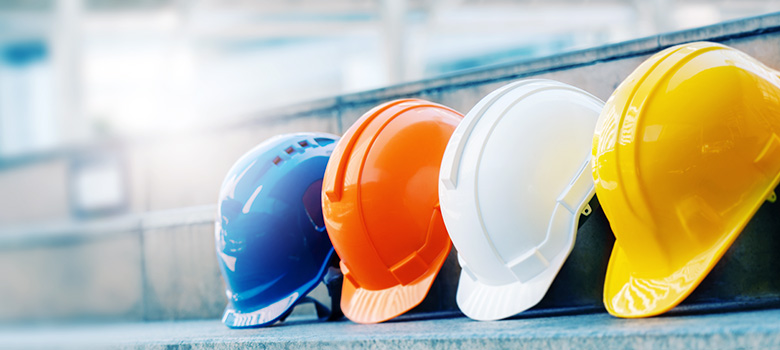 The challenges in the construction industry
The most important challenges that companies in the construction industry, must now overcome
The future of the construction industry – what you should consider now!
The construction industry faces a wide variety of challenges that impact the success of companies.
ORBIS has identified for you the most important trends, developments and challenges that companies in the construction industry are now having to overcome
The situation on the global markets
Continuing high market pressure and strong global competition, more complex customer approaches and increasing customer requirements in terms of products and services characterize the current situation.
Global crises, such as the Corona pandemic, are also causing a downturn in the construction sector - particularly because of massive delays from the Chinese market. The consequences are currently still unforeseeable but will have a noticeable impact on the construction industry.
Construction suppliers should react now to face the new developments and trends. In this context, it's important not only to safeguard profitability in the short term, but also to sustainably improve strategic potential too.
In the digitalization of the customer journey, we have oriented ourselves to the relevant trends and challenges of the construction industry.
The challenges at a glance
Fierce competition is being exacerbated by consolidation and internationalization in the industry.
The customer journey has changed completely through the use of digital media. New channels must be used to successfully address customers.
The importance of system solutions and ready-to-assemble products is rising rapidly. Overall, the professionalization of construction is leading to significantly higher performance requirements for products and processes of construction supply companies.
Customer requirements are rising in terms of products and services. Above all, the demand for sustainable products is gaining in importance.
Building owners and investors have a significantly higher level of knowledge due to the new media and need to be taken into account significantly more in the purchasing decision process.
The latest technologies for the future of the construction industry
To make processes in the construction industry more efficient, project management platforms are being used more and more frequently. This reduces completion times and cuts costs significantly.
More emphasis will be put on meeting demands for more sustainable construction and high environmental compatibility in the coming years, not to mention high customization and quality requirements, especially in residential construction (e.g. Smart Homes). This development also offers opportunities for the future of the construction industry: The willingness to pay for corresponding products is increasing, and purchase decisions are being made more consciously.
The daily flood of inquiries received through a wide variety of channels and with different file formats poses a significant challenge for inquiry management in the construction supply industry
Some of these RFQs are hundreds of pages long. This means lots of valuable time is lost in the quotation process. Using artificial intelligence (AI) as a basis, we are already achieving an automation level of 70 to 80% with the latest technology and saving the inquiry management team a lot of time.
For more sales and growth, the sales department must identify potential customers and construction objects early on and offer existing customers an excellent customer experience.
Progressive companies work with a solution to intelligently identify building objects to keep track of current construction tenders. All the information from various sources, some of them international, is clearly presented. This enables property managers to maintain an overview and identify potential more quickly.
Sales urgently needs access to relevant customer data over the internet – from anywhere. This is the only way to serve all the relevant touchpoints in the customer journey.
Make your sales department fit for the future
Sales optimization (e.g. by introducing a CRM industry solution) is particularly important for construction suppliers, since the sales process is crucial for awarding contracts.
Regardless of whether you're looking to qualify construction projects, find intelligent building objects the smart way, or deal with inquiry management, a modern industry solution based on Microsoft Dynamics 365 Sales (a CRM system) allows you to digitalize all the relevant processes in your company.
Furthermore, the solution enables you to address your target group at the right time, using the right digital channels, with personalized information. Addressing customers in a targeted manner allows you to offer your customers products or services that are precisely tailored to their needs.
The integrated Microsoft Teams enables easy collaboration between internal and external employees. Teams enables video conferencing, chatting, telephoning and collaborative work on documents.
Power BI, a powerful reporting and analytics solution, is included too. With the help of cloud-based Business Intelligence functions, you can gain new insights that enable you to make the right strategic and operational decisions regarding your company's direction.
In addition, your Sales team has access to relevant customer data from anywhere. This simplifies contact and optimal support for the respective key personnel. Especially in the property sector, good service often plays a more important role in the purchase decision than, for example, the price-performance ratio or the brand name.
Our recommendations for more sales in the construction industry at a glance:
Drive digitalization through new technologies and innovations
Identifying the right contact person for field service
Predicting future demand in requests for proposals
Mastering the daily flood of RFQs using artificial intelligence (AI)
Getting an overview of all the construction projects with digital solutions
Generating leads by interweaving the digital processes of marketing, sales, and service
Calculating the customer lifetime value based on CRM data
Changing the value chain – from product management to production and sales to the after-sales service
ORBIS – your ideal partner for digitalization in the construction industry
When it comes to digitalizing the customer journey, we are guided by current trends and the biggest challenges facing the construction industry. Construction companies and construction suppliers are taking the next step toward the digital transformation with our forward-looking solution based on the Azure platform.
Our expertise from numerous projects as a Microsoft Partner, as well as our extensive network in the industry, make us your ideal IT partner! From object identification and customer focus to digital construction sites and downstream service activities – you get process expertise and a whole host of solutions from a single source.
There has never been a greater opportunity to gain a significant competitive advantage through intelligent IT solutions!
In our professional and individual initial consultations, our industry experts explain how you can digitally overcome the challenges of the future with the help of an industry-specific CRM solution.
Get in touch and ask our digitalization experts everything you need to know as part of a no-obligation consultation. Many satisfied customers from various industries are already relying on solutions made by ORBIS.
Title
Location: Online
/
Date: 12.12.2023
Transfer construction projects intelligently and effortlessly into CRM - the dream of up-to-date data comes true.