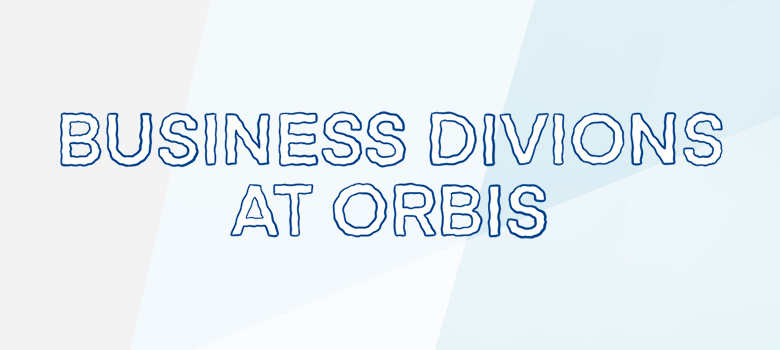 Business divisions at ORBIS
Our company is split into four divisions: Microsoft, SAP, Internal Services and Marketing & Sales. Even though we have a strong, uniform corporate culture, each of our divisions offers something special that also makes it one-of-a-kind within ORBIS and enriches us as a company.
Microsoft – where technology is the primary focus
Our employees in the ORBIS Microsoft team have an in-depth understanding of technology and are highly adaptable, and they exploit these attributes to digitalize processes in a wide range of industries in (inter)national companies and corporations.
Our primary focus is on sales, service and marketing processes with Power BI, Teams, SharePoint, Office 365, Modern Workplace, Security and IT infrastructure. We also continuously work on new topics and develop an edge for our customers with the latest technologies – e.g. cloud, AI, the IoT or blockchain. We overcome classic compartmentalization and categories, and instead view networking of technologies as an exciting field of work. In everything we do, we ask ourselves: What technology can we use to enable customers to obtain relevant information from their data and thereby harness this knowledge as a competitive advantage? And how can we implement the associated process? At the same time, the opportunities open to us as ORBIS Microsoft have increased rapidly in recent years – not least thanks to Power Apps. That's why we don't just manage digital change but act as active promoters.
At ORBIS Microsoft, we see ourselves as an open community that not only has the opportunity to make a difference, but also seizes it. Hence why we like investing time in promising emerging technologies. Specialist knowledge concerning production planning or accounting is part of our portfolio, but the technologies are the priority: How do I build knowledge about a new technology, and how do I transfer that to customer needs? At ORBIS Microsoft, we see ourselves as pioneers, not early adopters. That's why we continuously scour the market with the aim of mastering the relevant technologies even before our competitors and approaching customers with high quality. Our partner Microsoft provides us with a complex toolbox offering many outstanding opportunities to do exactly that.
We are looking for ORBIS Microsoft employees who attach a great deal of importance to flexibility and the ability to develop themselves. You don't have to be a developer or consultant per se. Our team is also on the lookout for career changers with a high degree of initiative. Our staff search focuses on two different profiles: applicants either with an in-depth understanding of the business in question, or with the ability to swiftly and superbly adapt new technologies. A career in Microsoft isn't clearly mapped out. Since the topics are so diverse, our employees' vertical and horizontal development is important to us.
Our current vacancies in the Microsoft Division are advertised on our career portal.
SAP – a proven partner in the digital transformation
We accompany our customers on their journey to becoming intelligent companies and advise them along the entire value chain.
Our area of activity ranges from strategy consulting and change management, to process and system consulting. Even once the project phase is complete, we remain closely connected with our customers through qualified application management and support.
Our consulting activities focus on digitalizing end-to-end processes along the value chain, starting with customer experience and supply chain management, through to manufacturing execution and logistics (smart factory). Furthermore, these processes are supported by our Financials, Human Experience and Business Analytics specialists.
As a Gold Partner, we are familiar with SAP's entire portfolio, including cloud products in particular, and always stay up to date. The range is completed by our development teams' proprietary products, which support and highlight our customers' strengths.
We offer a stable environment for agile teams made up of motivated employees who are passionate about and thirsty for knowledge to identify innovations with a view to changing and further developing existing solutions.
This time of constant change, driven by technological innovation, our team culture of collegial togetherness is a driving force for our shared success.
Our customers appreciate our many years of process and industry knowledge, combined with our innovative spirit and our desire to think outside the box.
We are on the lookout for employees with a technical or business background to strengthen our team with their openness to new ideas, curiosity and courage, not to mention passion, commitment and flexibility. We are focusing on both consultants and developers with professional experience such as trainees and career changers. What counts is your commitment to the common goal.
Whether it's the digitalization of finance, logistics or manufacturing processes that you're passionate about, you've come to the right place!
Our current vacancies in the SAP Division are advertised on our career portal.
Internal Services – ensuring ORBIS's path
As internal service providers, we support our operating units and ORBIS's entire organization.
Thus, we undertake a wide range of tasks that extend into virtually every area of the company. To operate successfully in ORBIS's various dimensions, we have specialized in the following disciplines:
Office Management, Service & Reception
Fleet & Travel Management
Human Resources
Controlling
Finances & Investor Relations
IT, Facility Management & HSE
Legal
The customers of the Internal Services Division are, first and foremost, the operating divisions and our staff in Saarbrücken. From our headquarters, we support our subsidiaries, nationally (in the likes of Hamburg, Markdorf or Bielefeld) or internationally (in Austria, Switzerland, Netherlands China or the USA). This is where we bring all the threads together. That's why our customer domains are just as diverse as our activities. Our stakeholders extend beyond our own organization to shareholders.
We see ourselves as a multi-layered, multi-dimensional division whose scope extends far beyond conventional administration. We secure and actively shape ORBIS's future and, as specialists, handle all matters concerning the organization itself. That is why competence outsourcing is not an option for us! We concentrate our competencies internally, understand our customers' needs and problems and act in a solution-focused manner. We are convinced that it is our short distances and open doors that significantly support our focus on services. Our employees' task-specific expertise is rounded off by their diverse backgrounds, knowledge and methodological skills. If external expertise is required for special topics, we involve external service providers for consulting purposes. After all, we strive to deliver the utmost quality in our work.
Although our Internal Services Division is diverse, their openness and focus on services are the two things that all our employees have in common. They feel responsible for their activities and the results of their work. Bearing the big picture in mind, also inter-divisional, is absolutely vital for our understanding of quality. To this end, networking within ORBIS and having interfaces with stakeholders is essential. We primarily focus on employees with professional experience; depending on the specific position, this may also have been gained through internships and student trainee positions. Some sample jobs (m/f/x) include: assessor for business law, accounts receivable accountant, IFRS specialist, certified management accountant / tax specialist, fleet manager, service employee, IT service employee, HR officer, recruiter, assistant, etc.
Internal Services vacancies
Our current vacancies in the Internal Services Division are advertised on our career portal.
Marketing & Sales – actively shaping our business
Our Marketing Department is more than just an internal department that organizes events or creates handouts. We acquire and develop the leads that our Sales team converts into customers.
We are actively positioning the ORBIS Group on the market and increasing our brand awareness. One way of doing this is by finding the right message together with the specialist divisions. But, above all else, we are achieving this by bringing our SAP and Microsoft ranges, not to mention our own solutions and expertise, to the market using digital channels:
Website
Social media
Emails
Success stories
Digital events and trade fairs
Webinars
Blog
Our leads are also generated and qualified by our Customer Center through classic telephony through to social selling measures.
Our Sales Department develops the leads acquired by Marketing and the Customer Center. In addition to acquiring new customers, our main focus is on identifying cross-selling potential and discovering additional needs among our long-standing existing customers. What's more, our sales managers prepare quotes, draft contracts and are actively involved in conditions management.
If we are to make people aware of our innovative product and service portfolio, we must always have our finger on the pulse with our marketing strategies and tools. That's why we work with state-of-the-art tools such as search engine optimization, buyer personas and video marketing. The question "How do we reach prospects and our customers?" is the main focus of our considerations and is continuously adapted to the (digital) change.
Our Sales Department sees itself as an advisor to our customers in all matters relating to digitalization. It helps customers to actively grow through the digital transformation, unlocking shared additional value during the process. We attach the utmost importance to our customers' long-term trust and honest feedback. That's why our sales activities focus on the question "How can we convince our customers of our expertise and inspire them by making it even better?".
For Marketing, we are looking for creative individuals who can flexibly put themselves and their ideas forward and calibrate them to market requirements. Our employees' initiative, spontaneity and ideas drive us forward and help us to both anticipate and implement our customers' requests. In Sales, we also value an affinity for technology, good market knowledge, cross-selling skills and a network in the IT environment. We believe that openness and the ability to involve and link the right people in the sales process at the right time are indispensable skills. Marketing managers, graphic designers, sales account managers, customer center agents (m/f/x) and more work in our Marketing & Sales Division.
Marketing & Sales vacancies
Our current vacancies in the Marketing & Sales Division are advertised on our career portal.
Do you have any more questions?
Feel free to check us out on our social media profiles, or send us an email. We look forward to hearing from you!