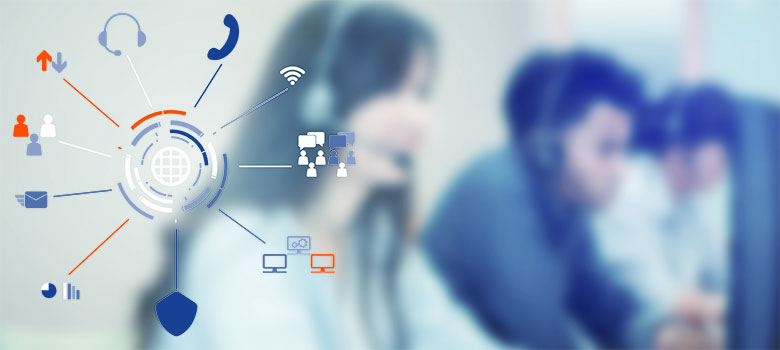 Microsoft Application Management & Support by ORBIS
We give you integrated support!
Microsoft Application Management & Support by ORBIS
We support you! – Application management embedded in an integrated application lifecycle management (ALM) for ORBIS's existing and new customers
We work together with you to develop an application management concept that's tailored to your business and your individual situation:
Application Lifecycle Management (ALM)
ORBIS gives you integrated support in every phase of your digitalization process: from strategic consulting for your digitalization projects, process consulting, organizational consulting and change management consulting, to implementing, integrating and rolling out individual projects.
Application Management Services
The support provided during ongoing operation is a significant success factor. We support your digitalization project by providing customized services relating to all Microsoft applications. The application processes in your company will steadily improve through targeted maintenance, support and process optimization with the help of application support by ORBIS (second-level application support).
In addition to providing actual application support, we also help you with cloud, hybrid and on-prem deployments as part of application operation services.
By taking advantage of our technical Microsoft support service, you're easing the burden on your IT department and freeing up resources to handle operational and administrative tasks.
The diagram below illustrates how application management is incorporated into integrated application lifecycle management (ALM) as part of an agile evolution of your digitalization initiatives (ALM solution). We support you with your user software in line with the best practice guidelines and ITIL support approach throughout the entire lifecycle (ALM process).

ORBIS Application Management Support
Our ORBIS service center makes a distinction between three basic service ranges: software maintenance, project services and second-level application support:
Software maintenance
Software maintenance is used for quality assurance purposes and to maintain the functionality of your applications. It includes routine software updates to the latest version, among other things.
Project services
We offer technical support for your project management operations; this includes analyzing, defining, implementing, rolling out and developing specifically suitable solutions.
Second-level application support
The second-level application support extends the standardized maintenance services to include specialist support with requests. On the one hand, the goal is to provide technical and functional support for specified applications. On the other, it's to work together with you to find solutions for application support requests and problems that users report through the ORBIS service request management application, by email, over the phone or digitally using remote maintenance. Our support staff can help by performing remote diagnostics over the phone or online over the internet.
ORBIS offers second-level application support for the following products:
Microsoft products (Microsoft 365 Customer Experience Platform and Microsoft Power Platform
ORBIS solutions (ORBIS extensions and customizations for the Microsoft solutions mentioned above)
Defined third-party solutions
ORBIS Application Management Services: What specific services do we offer?
The diagram below sums up at a glance what services (AMS) we provide for your company: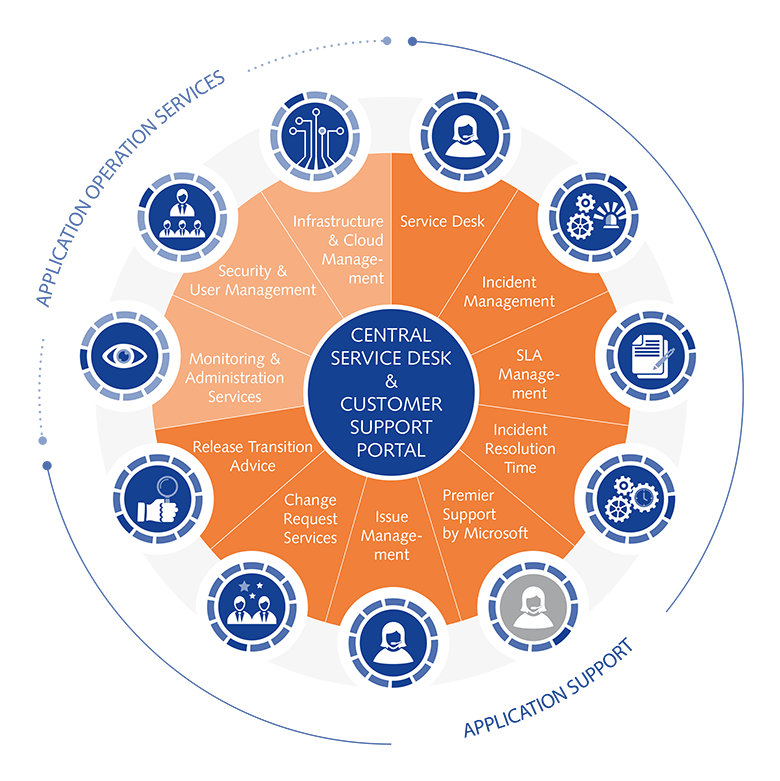 Administration is carried out through our central service desk and customer service portal.
Application management by ORBIS is split into two areas: application support and application operation services.
The application support segment includes services like incident management,release transition advice and issue management.
Application operation services include the three circles in the top left-hand corner of the diagram, namely infrastructure and cloud management, security and user management and monitoring and administration services.
ORBIS Application Support
The classic application support provides long-term maintenance, support and further development of your application.
We offer the following application support services:
Service desk
The service desk provides a central contact and interface for assistance with problem cases and official requests (support cases), as well as for the provision of suitable solutions and further information by our support team. Requests can be submitted by email, over the phone and using our central customer support portal.
Customer support portal
As a user of our customer portal, you can access specific support information. In the system, you can post new requests, track the development of your current support cases and share information with the ORBIS service desk. You can access the customer portal at any time using all common mobile devices, like a smartphone and tablet, or using your computer or laptop's browser.
Incident management
If faults (incidents) occur in your applications, our experienced dynamics and IT consultants will initiate measures to eliminate the faults together with the specialized center of excellence. Our top priority is to minimize the negative effects of errors and vulnerabilities so as to prevent attacks on the IT infrastructure and your system.
SLA management
Fault management is based on standardized or individually agreed service level agreements (SLAs). The services that our IT operations team provides are measured, recorded in KPIs and provide analyses of service quality, quantity, performance and satisfaction.
Incident resolution time
We offer SLAs with an agreed incident resolution time (IRT) depending on the class and severity of the error as an option. The IRT measures the fault processing time less waiting times. This is to ensure that troubleshooting and problem-solving are the main focus and that processing is carried out in a specified time.
Premier support by Microsoft
ORBIS offers you the option of benefiting from the premier service offered by the provider Microsoft. You sign a service contract with us; there's no need to conclude a separate contract with Microsoft itself. This allows premier service requests to be reported to Microsoft and processed through ORBIS.
Issue management
The experienced IT consultants at the service desk are also available outside of problem situations for the likes of understanding issues relating to applications and processes, coaching or special support questions.
Change request services
In day-to-day business, there can be lots of minor changes to applications even when the implementation consultants aren't on site or the in-house support organization can't take action at short notice. Our experienced team can quickly implement these minor changes and developments and integrate them into your existing workflows within the support contract.
Release transition advice
ORBIS monitors product updates, changes and developments (release waves) by Microsoft, even in the early stages, and identifies relevant changes with need for action that are important for your business. As a support customer, you'll be informed of the changes in good time and given appropriate recommendations for action.
ORBIS Application Operation Services
In addition to the actual application support, ORBIS assists you by providing technical, infrastructure-related and administrative services for cloud, hybrid and on-premise deployments to guarantee the overall system's availability and to ensure you get the maximum benefit out of your application.
You can use the following operation services with us:
Monitoring & administration services: Proactive monitoring of cloud-hybrid, on-prem and integration solutions, troubleshooting and maintenance (importing service packs, CUs, index maintenance and cloud services like Azure and Kubernetes)
Security & user management: Conceptual design and review of security architectures and solutions, administration and coaching, as well as operational user management
Infrastructure & cloud management: Cloud readiness check, infrastructure architecture and sizing, as well as deployment of cloud services
Become a Microsoft support customer today and benefit from our comprehensive services
Based on framework agreements and SLAs, we enter into a long-term service partnership with you and offer you legal security. As part of the support contract, our internal ORBIS AMS agents will assist you with your issues at any time with our fully comprehensive Microsoft support range and help you to resolve faults or problems in a timely manner.
Do you have more questions and aren't an ORBIS application support customer yet? No problem! Make the most of our advice! Contact us in person – our staff will be delighted to help you by providing further information in your individual case.
The following customers are already relying on comprehensive ORBIS support