SAP PP/DS: Detailed production planning
Your way to a consistent production plan that has cut inventory costs in your Production department!
Detailed production planning with SAP
Are your production planning activities being complicated by untransparent and unrealistic illustrations of manufacturing operations and the capacity situation in your SAP system? Create and maintain a feasible production plan with little effort. Optimize resource utilization and simultaneously view inventory, capacity, setup times and scheduling in a way that's consistent over multiple stages.
Detailed production planning must respond flexibly to changes to ensure that bottlenecks don't occur. Striking a balance between inventory, capacity and sales is a major challenge in supply chain management.

SAP enables detailed planning in two ways
In conjunction with R/3 based on SAP APO (Advanced Planning & Optimization), detailed production planning is made available using the PP/DS (Production Planning and Detailed Scheduling) module.
The range of production planning functions mentioned above is included as "Advanced Planning" in the SAP S/4HANA system. The exact product name is: SAP S/4HANA Manufacturing for Planning and Scheduling, more commonly known as ePP/DS.
In both situations, detailed planning is bidirectionally interconnected with the rest of the ERP functions and data in real time, enabling automated, feasible and backlog-free detailed production planning.
Planners in your company can benefit from numerous functionalities due to the integration of detailed production planning. This provides them with efficient support when it comes to capacity planning. The production plan remains consistent and realistic at all times, even if and when unscheduled events occur. For the first time ever, planners can keep their planning operations up to date with reasonable effort and thus form the foundation for submitting reliable delivery dates.
Find out more about Supply Chain Management (SAP SCM) with ORBIS at a glance.
The advantages of detailed planning for your company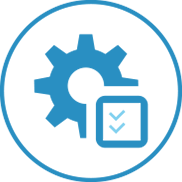 Realistic production planning with reasonable effort
Transform your customer orders and preliminary planning data into a single feasible production plan that's consistent over multiple stages. By looking at capacity and material availability together, you can plan efficiently and ensure the plan's feasibility. PP/DS offers functions to optimize the sequence of orders and benefit from reduced setup efforts, not to mention functions aimed at optimizing resource utilization, such as optimum utilization of machines and equipment.

This is also feasible without any fixed collective orders, since operations and orders are dynamically linked at all MRP levels. Technical production restrictions and production resources can also be mapped and taken into account in planning. SAP Detailed Production Planning therefore provides you with an optimum plan that requires little time and effort in day-to-day business.
Increasing on-time delivery
Production is often limited by numerous restrictions. To determine realistic delivery dates, the real influencing factors and the interrelationship of various production steps – which often run across multiple stages – must always be taken into account during planning. Even if things turn out different to the way they were planned, PP/DS allows you to consistently and quickly adjust the allocation of resources and order deadlines in Production.
This automated change planning can minimize the impact of delays or disruptions using machines. Prioritized orders are given precedence in scheduling, thus ensuring that key customers are supplied. PP/DS provides extensive simulation capabilities to make running through multiple solution scenarios an absolute breeze for planners. Use them to generate reduced lead times and to improve accountability and on-time delivery to your customers.
Easy systems integration with ORBIS
Are you using an SAP ECC system in your company at present, will you be switching to SAP S/4HANA soon, or are you already using SAP S/4HANA? The PP/DS module is fully integrated in S/4HANA and does not require any additional installations. Existing SAP ERP systems can be extended to include the APO-PP/DS add-on. Both our employees and our consultants have the right IT solution and implementation method to suit every stage and starting situation. Our portfolio for supply chain planning with SAP offers you enough tools to optimize your supply chain with system support.
Rely on ORBIS as your partner and benefit from relevant functions for your company by using the right strategy and tools! ORBIS supports you with project consulting, implementation and execution, not to mention optimization, in business. Your requirements are implemented quickly and – following a state-of-the-art project methodology – efficiently. Once implementation is complete, we will continue to support you by drawing on our many years of expertise and our consultants, and will help you and your employees to build on your knowledge further by holding webinars, webcasts and workshops.

Are you looking for a solution to map the entire planning process? SAP Integrated Business Planning (SAP IBP), a cloud system, allows performance of preliminary planning – from simple sales planning, to mapping of a cross-departmental S&OP process.
Get to know us – our SCM consultants will show you the way to perfect production planning for your supply chain. Improve future process planning efficiency in the age of the digital transformation!