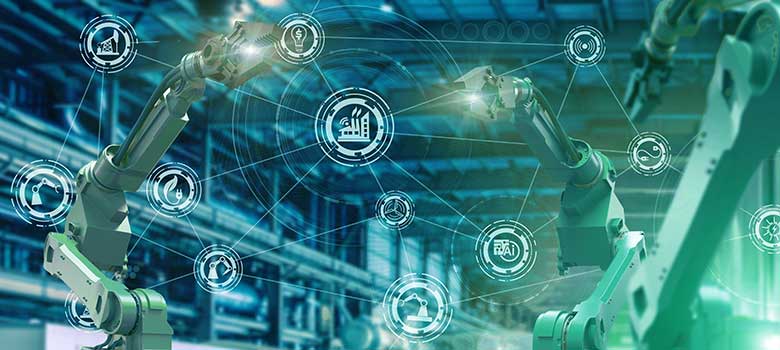 Digitalizing production activities with ORBIS MES
Realise optimum interaction between all shopfloor participants
Efficient production in real time for your company with ORBIS MES
Using a Manufacturing Execution System (MES) is a key aspect when optimizing companies' manufacturing and production planning operations. When it comes to enhancing the efficiency of production processes, implementation allows you to make better use of production capacities and to increase overall efficiency in your Production department and throughout the company as a whole.
Why should you – as a manufacturing company – use an MES?
If manufacturing companies do not use software like this, they often lack transparency about the state of production activities and the availability of resources. This can lead to bottlenecks, delays and inefficient workflows. By integrating data from different business units, an MES enables implementation, management and control of production activities in real time – and paperlessly and efficiently to boot. MES software helps companies to optimize production processes, reduce scrap and waste, increase productivity, meet quality standards and adhere to delivery deadlines.
ORBIS MES: the ideal solution for digitalizing your production activities
For digitalizing production, ORBIS MES is the solution that's fully integrated into your SAP S/4HANA or SAP ERP (SAP Enterprise Resource Planning) system to orchestrate and automate processes between the shop floor and the MES and SAP systems / applications. The graphic shows the modular structure of ORBIS MES, which covers the various functionalities for different areas in production.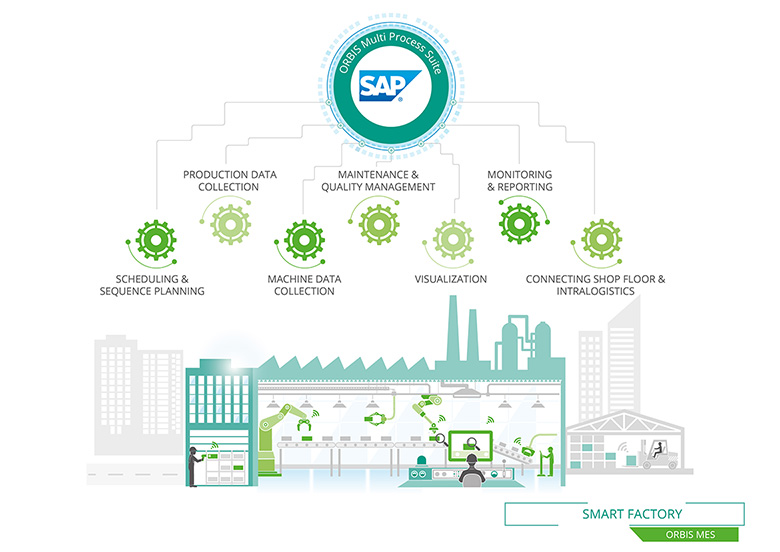 The solution is the key component for seamlessly linking and synchronizing data and processes on the shop floor with SAP processes. With the Manufacturing Execution System from ORBIS (ORBIS MES), not only are you relying on the digitalization of your production activities, but also on optimum interaction between everyone involved in end-to-end processes on the shop floor and the backend systems.
ORBIS MES: functional highlights
Production data acquisition is implemented as one of the basic functions in ORBIS MES – thus giving a real-time view of all production data and enabling control of all production processes. What's more, manual data acquisition is replaced by means of the integration of machine data acquisition, where machines receive data digitally and fully automatically from both SAP and MES and return it to SAP or MES.
ORBIS MES enables simple and customized integration in SAP HCM (staff work time logging). On the one hand, the integrated data management feature consolidates the recorded data from staff work time recording. On the other hand, production data is also sent to the SAP master system, considerably reducing the workload and preventing input errors. There is no longer any need for manual processing. ORBIS MES accesses the personnel master data in SAP – so there is no need to additionally create or separately maintain SAP information.
Integration of fault management into SAP quality and maintenance processes
Another advantage of ORBIS MES is the integration of optimized downtime and fault management. This is fully integrated into SAP quality management and maintenance processes. The overall view of the shop floor processes–including maintenance and quality processes–enables quicker identification of weak points in Production. The special feature in this regard is an escalation management module that detects errors in the process flows based on rules and automatically generates or escalates information to solve the problem with events.
This exception-based manner of working enables continuous monitoring and maintenance of tools and machines. Costly repairs and downtimes are also avoided and quality is increased. It is also possible to collect data from SAP QM inspection lots / points with a seamless SAP integration. Data acquisition ensures complete documentation and batch tracing (traceability).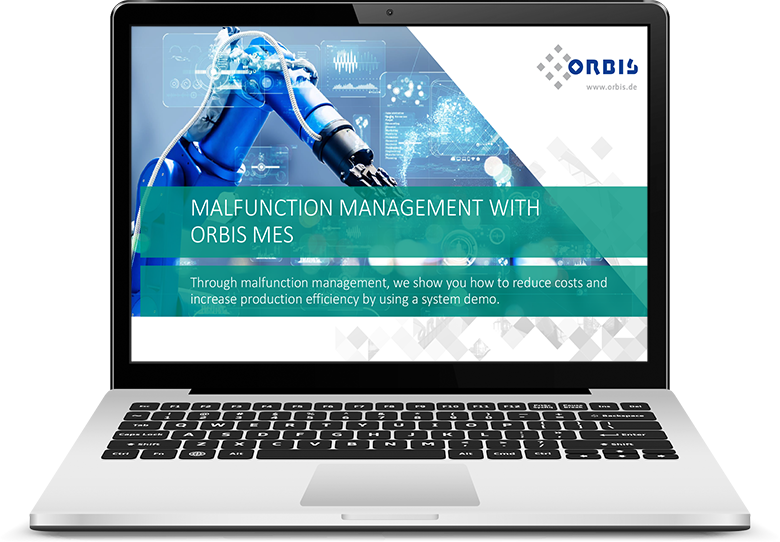 ORBIS MES: how to cut costs and enhance production efficiency with fault management
Watch our webcast to learn how ORBIS MES can help you cut costs and enhance your efficiency using the fault management function.
Optimum utilization of resources with the ORBIS planning tool
With the ORBIS planning tool integrated in the ORBIS MES as an option, you can plan your production orders taking into account both required and available resources and capacities. By means of detailed planning against limited available capacities (finite planning), the software warns you early on if there would be an upcoming scheduling delay or capacity bottleneck. In addition to the integration of standardized planning rules, it is also possible to integrate customer-specific heuristic procedures. The result of the planning activities can be visualized in Gantt charts.
Transparency due to monitoring, reporting and visualization
Get an overview of available resources and everyone involved in the production process. Stay up to date at all times with accurate real-time evaluations of key process influencing variables. Find out about KPIs such as the quality rate, productivity, rework rate and scrap rate in the OEE cockpit.
With the ORBIS MES software's intuitive and flexible user interfaces, you can automatically visualize all the process steps (control console) and get an overview of the current status and available capacities at any time. You can therefore use the ORBIS production control console to visualize information about production progress, quality or even machine and installation conditions using large on-screen displays (key phrase: Andon systems). This information is available in real time.
From the individual workstation to Production as a whole, with ORBIS MES you constantly keep a watchful eye on your shop floor. All of the required information is displayed clearly and in real time. Installation and order statuses, OEE (overall equipment effectiveness) data, quality and performance data, and a wealth of other information is available out the box.
Success story: ORBIS MES at Kubota
Find out how Kubota Baumaschinen is using ORBIS MES to digitalize and integrate shop floor processes based on SAP ERP. You will also gain insights into how EC screwdrivers are being integrated into the IIoT using the ORBIS Multi-Process Interface.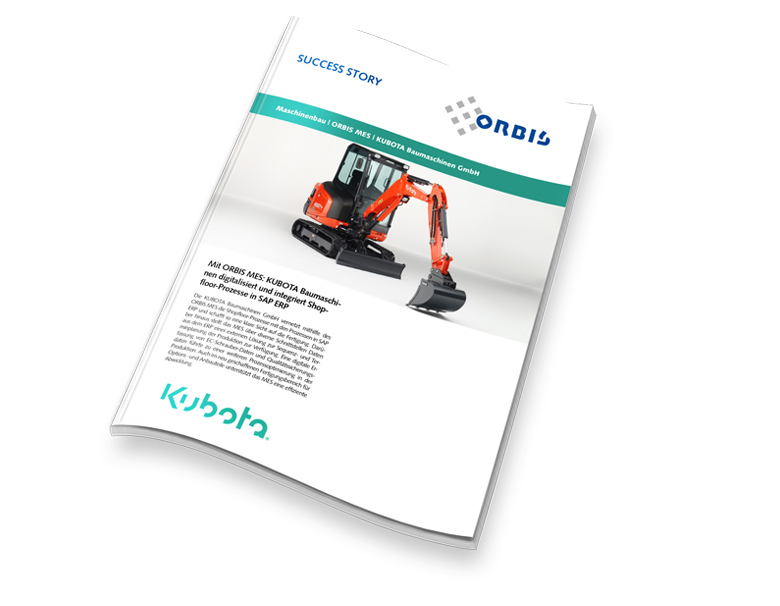 ORBIS Multi-Process Suite (ORBIS MPS): a technical process integrator for people, machines and processes in SAP
A key component of the ORBIS MES is the ORBIS Multi-Process Suite (the technology for modular process integration). ORBIS MPS offers you the advantage of seamless integration of people, technical objects, devices and controllers into your SAP S/4HANA or SAP ERP system. All the stakeholders are integrated into your company's production processes in real time.
Rely on ORBIS for digitalizing your production activities
Integrating all the processes and the players involved (such as employees, machines, systems and services) creates a high level of user acceptance. Digitalizing your production activities with the help of ORBIS MES guarantees ideal communication with Production. Implement the Smart Factory in your company with ORBIS. Link intralogistics to the shop floor with ORBIS MES and ORBIS Logistics solutions. Create end-to-end process integration, since logistics or intralogistics processes can be seamlessly connected to the functionalities of the ORBIS Manufacturing Execution System in real time. Doing this creates an autonomous digital factory in your company for you.
Benefit from our process and consulting know-how – not to mention our SAP consultants' Industry 4.0 expertise in the manufacturing industry thanks to over 35 years of project experience. As a long-standing SAP partner along the digital supply chain, we help you as our customer to plan and implement solutions for your Smart Factory and provide comprehensive management and process consulting services.
ORBIS Shopfloor Boxes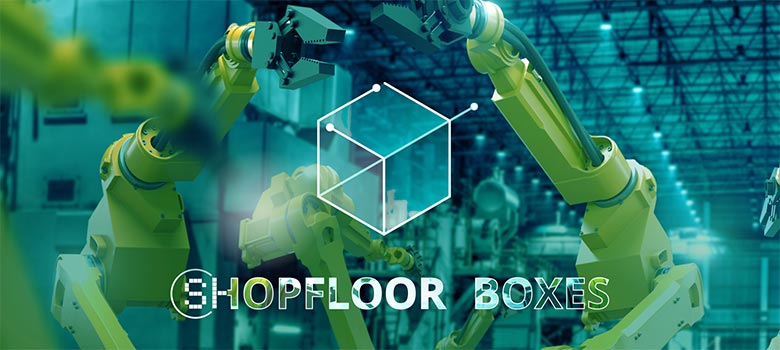 Don't waste time or resources digitalizing your production and logistics activities. The ORBIS MES starter packs with a short implementation period and a clearly defined cost framework offer you exactly what you need to digitalize your shop floor.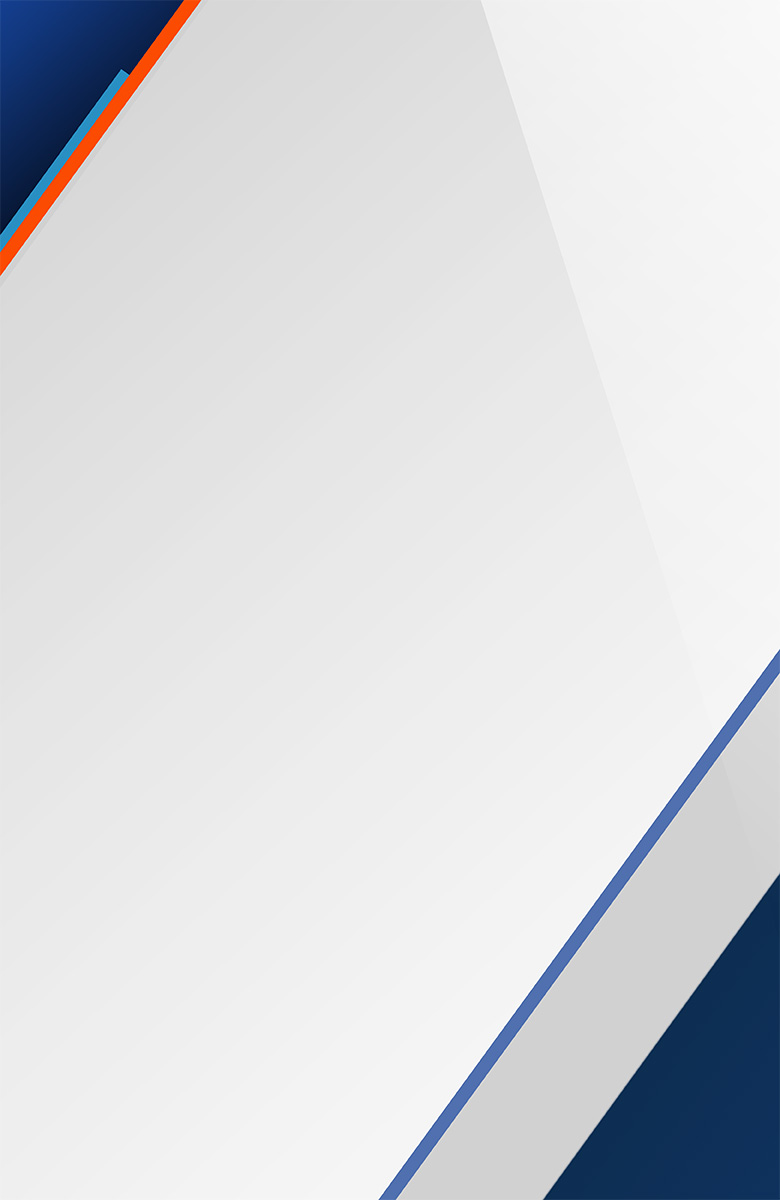 Telegärtner is digitalizing and optimizing processes on the shop floor with ORBIS MES

Kubota digitalizes the shopfloor with ORBIS MES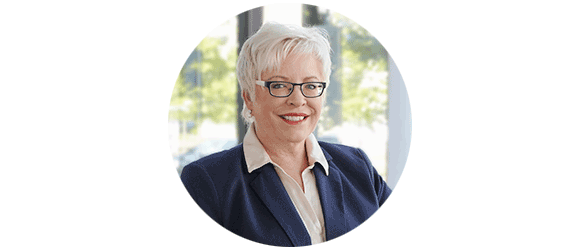 I am here for you
Andrea Häfele (Senior Account Manager MES / Industry 4.0)
Tel.: +49 681 9924-683
E-Mail: andrea.haefele(at)orbis.de
References