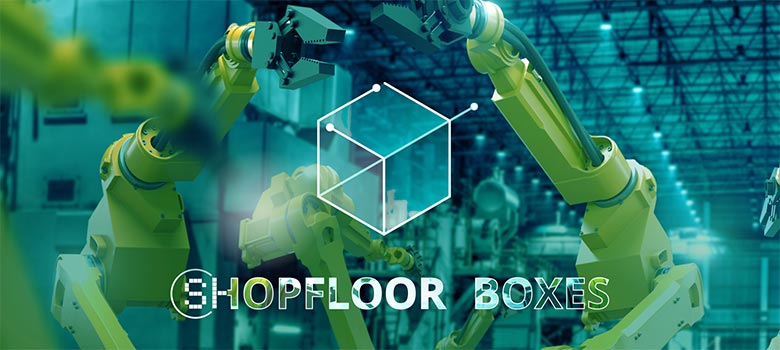 Fast, target-oriented and calculable!
Digitalization of your shop floor with ORBIS Shopfloor Boxes
ORBIS MES plug & play - preconfigured MES solution for any size of company
Our answer to your search for an easy digitalisation of your shop floor that is suitable and plannable for your company ."Out of the Box" ready for an immediate use and with a significantly reduced implementation time, each of the three boxes represents a preconfigured version of our proven MES solution.
The target-oriented compilation of the different sizes S (small), M (medium) and L (large) the boxes offer exactly the features that suit to your company and requirements.
This defined scope of Services of the respective boxes is accompanied by a clearly calculable budget. So you know exactly what costs you can expect before the project starts.
Choose the right box & get started

ORBIS Shopfloor Boxes: Solution Demo
Learn how to use ORBIS Shopfloor Boxes and which is the best option for you in our Solution Demo!
The advantages of the ORBIS shop floor boxes
The target-oriented defined range of functions of our different boxes leads to positive effects on the planning and realization of your digitization project.
Clearly defined project budget
Due to the scope of services defined in advance, the budget is already fixed before the project begins. Surprisingly occurring, not calculated and budgeted costs can be excluded.
Short implementation period (usually 4 weeks)
All sizes offered are plug & play versions of our MES solution. This eliminates the need for a complex, time- and resource-consuming implementation.
Clearly structured implementation methodology
In order to keep the implementation period as short as possible, we use our proven ORBIS project methodology. (Based on SAP Activate)
Documented processes with step-by-step implementation guide
Would you like to implement the system you have selected yourself? No problem! For each box you will receive a documentation of all processes including the respective step-by-step implementation instructions.
Different sizes (S, M, L), depending on process complexity
Choose the right MES solution for your company, depending on the business processes to be digitized and your desired results. If required, the boxes can be supplemented with additional features from.
Individual scalability
The features already contained in the individual boxes can be supplemented by individual components of the overall MES solution, according to your individual wishes. This is how we create your customized MES solution.
Title
How can you best implement your individual, fully SAP-integrated Smart Factory? In a joint discussion, our experts will answer your questions on the topic and present the solutions that suit you and your requirements.
Would you like to learn more about our ORBIS MES?
ORBIS Manufacturing Execution System
Automation and orchestration of all shop floor processes: ORBIS MES is 100 percent integrated in SAP. Our MES system is therefore the central component for seamlessly linking and synchronizing data from the shop floor with SAP processes.
References