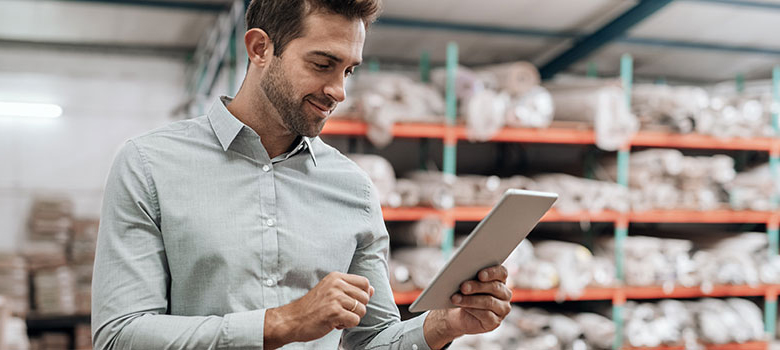 Increased supply chain performance with SAP Demand-Driven Material Requirements Planning (DDMRP)
SAP DDMRP: Demand-Driven Material Requirements Planning
Control the flow of materials through your supply chain with strategic decoupling points and inventory buffers
DDMRP (Demand-Driven Material Requirements Planning) is a formal, multi-stage planning and execution method designed to ensure the flow of relevant information and materials through the positioning and management of strategic decoupling buffers. It enables your company to align demand as closely as possible to actual market requirements. The principle combines conventional material requirements planning (MRP) with elements of the theory of constraints (TOC), lean production and other, new methods.

In the SAP landscape, the DDMRP concept can be fully implemented in both SAP S/4HANA and in SAP Integrated Business Planning (SAP IBP). The standard solution in this context is also referred to as "demand-driven replenishment" (DDR). DDMRP for SAP IBP and for the current version of SAP ERP supports all five stages of the concept. So the solution is certified by the Demand-Driven Institute (DDI).
Why the VUCA world requires a new concept like demand-driven MRP
Increasing digitalization, especially in the fields of production and logistics, is ensuring that new technologies and innovations are being developed at an ever faster pace. In this environment, materials planning is particularly difficult, and classic approaches reach their limits. The term "VUCA" describes exactly that situation. Below, you will find an outline of what the term stands for and what the development means for companies:
V = Volatility
The markets are volatile because customer requirements are constantly increasing and competition is becoming fiercer. So changes in demand can occur at any time, in all directions and at maximum speed. These developments are increasing the pressure on companies to innovate and making it more difficult to identify needs.
U = Uncertainty
The uncertainty is due to the increasing trend of global competitors and customers. This diversity leads to a loss or lack of predictability in material requirements planning.
C = Complexity
Complexity is being challenged by globalization too. Political and legal backgrounds, not to mention dependencies on regional characteristics, have to be taken into account during the planning processes. This interconnectedness between causes and effects results in unclear correlations.
A = Ambiguity
The ambiguity of situations means there is a high probability of misinterpreting them. In supply chain planning, this complicates the necessary, common understanding of reality.
VUCA is therefore the new normal in planning material requirements. This is why conventional planning methods in supply chain management (SCM), such as MRP (material requirements planning) only work to a certain extent. By taking the DDMRP approach in your SAP system, you are using VUCA as a mindset and are focusing not only on forecasts, but also on the variability of today's supply chains.
DDMRP-managed material requirements planning and lean supply chain to eliminate the bullwhip effect
Since a "just-in-time" response in production to short-term fluctuations in customer demand is hardly feasible, material planners use buffers to make plans within an MRP run to counteract bottlenecks. In demand planning, this quickly leads to larger stock levels that cannot be used. This is called the "bullwhip effect". The fluctuations and effects in the inventory are illustrated in the example below: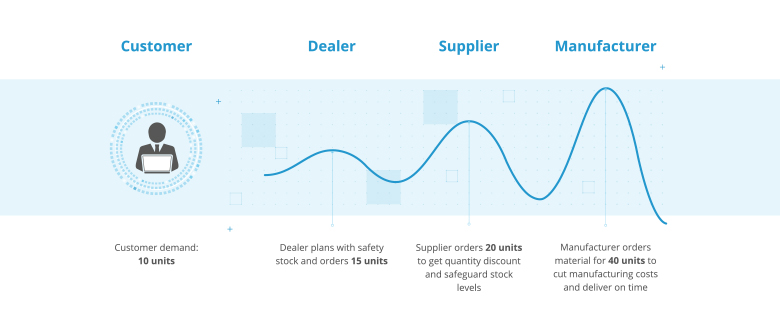 To eliminate the bullwhip effect, companies need to be aware of where and what stock level makes sense when determining demand. With the DDMRP process, you are pursuing the goal of calculating these decoupled inventory buffers. DDMRP in SAP Integrated Business Planning or SAP S/4HANA uses an innovative algorithm to optimally determine the size of inventory buffer zones on an ongoing and automatic basis.
What benefits in material requirements planning can you achieve with demand-driven MRP and a lean supply chain?
There are many benefits to illustrating digital supply chains and the strategy in management to promote process optimization within supply chain management and material requirements planning.
With the DDMRP approach, material requirements planning is based on actual orders placed and an additional buffer. According to the pull principle, materials procurement is based precisely on actual requirements. With software from SAP in the Supply Chain Management segment and the demand-driven MRP integration, material inventory is always kept in line with demand. With the benefits resulting from the application of DDMRP, you significantly increase the performance of your supply chain.

Improved customer service
Promote an agile supply chain, with excellent deliverability and short lead times.

Reduced stock levels
Create capacity for required products and goods, and use inventory limits for required materials.

Replenishment based on actual demand
Minimize the impact of incorrect forecasts on your replenishment strategy and reduce wasted resources.

Increased supply chain resilience
Cushion supply and demand uncertainties with decoupling points throughout the supply chain.
With ORBIS as your partner, you'll turn a digital supply chain and the smart company into a reality
With ORBIS, you have a partner on your side who supports you in more than just customer-focused, digital supply chain management; it also assists with implementing an efficient value chain. Our SAP consultants provide expertise for all processes – from planning, manufacturing and logistics, to customer service and aftersales service. We're therefore offering you holistic support for digitalization and are focusing on end-to-end, integrated business processes. Do you have any questions about SAP DDMRP or our SCM portfolio? We look forward to receiving your message or call!