ORBIS and HEITEC enter into partnership for Industry 4.0 solutions in the SAP environment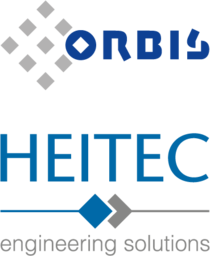 ORBIS AG, provider of Industry 4.0 solutions for SAP software, and HEITEC, the automation and electronics specialist, are pooling their expertise to offer SAP customers integrated, end-to-end automated processes in "real time" between the store floor and SAP ERP.
The cooperation between the partners combines HEITEC AG's comprehensive industrial expertise in automation with ORBIS AG's Industry 4.0 software solutions, which are fully integrated in SAP. The result is bundled know-how for the end-to-end automation of SAP processes along the entire industrial value chain and thus for networking production with the business management level. The store floor will be fully integrated with SAP processes in "real time". HEITEC and ORBIS thus become the ideal joint partner for SAP users to implement Industry 4.0 projects quickly and easily. SAP users are enabled by this partnership to automate their SAP processes with the production processes in an end-to-end manner.
ORBIS relies on the existing SAP ERP system as the digital core for the implementation and integration of Industry 4.0 processes. With the ORBIS Multi-Process Suite (ORBIS MPS), processes from production, intralogistics and service, for example, can be seamlessly integrated into SAP processes in "real time". With this technology, automated production processes can be bidirectionally networked, dialogued and visualized with SAP processes. Costs for subsystems are eliminated because the internally existing SAP infrastructure with its fully comprehensive processes and the existing SAP know-how are used.
As an expert in automation and information technology, HEITEC offers a portfolio of solutions ranging from digital plant and process planning to virtual commissioning and monitoring of plants and production processes with special embedded systems for faster networking of production. ORBIS and HEITEC thus open up the possibility for all SAP users to realize the digital transformation today with their current SAP Business Suite - step by step or in one fell swoop.
HEITEC's subsidiary HEISAB, which specializes in SAP consulting, will also be offering the ORBIS Manufacturing Execution solution ORBIS MES, which is certified by SAP, as a reseller. HEISAB thus offers its SAP customers an MES solution that is fully integrated with SAP.ORBIS MES is the central building block for the seamless linking and synchronization of data and key figures from the store floor with SAP processes and a digitally networked value chain. ORBIS solutions allow all processes in the value chain to be integrated in "real time", from the store floor to production planning and control, intralogistics, quality management, maintenance and service, and even personnel management. Thus, SAP Business Suite with ORBIS solutions becomes the virtual real-time image of what is really happening in the factory and SAP becomes the central planning and control system for production.
About the partners:
HEITEC
HEITEC stands for industrial competence in automation and electronics and offers solutions, products and services with the contents software, mechanics and electronics. With technically high-quality, reliable and economical system solutions, HEITEC helps its more than 2000 customers to increase their productivity and optimize their products. More than 1000 employees at numerous locations in Germany and abroad ensure customer proximity and industry expertise. More than 60 percent are university graduates or have a technical education. HEITEC has been able to grow by an average of 10 percent in recent years and has thus almost doubled its sales in six years.
HEISAB
HEISAB GmbH is the SAP consulting company of the HEITEC Group. HEISAB offers customer-oriented and future-proof solutions and concepts for the optimization of business processes - based on many years of experience in SAP consulting, comprehensive process know-how and the expertise of dedicated and experienced consultants. With its business units Consulting, Services and Solutions, HEISAB is able to offer all services in the SAP environment from a single source. The expertise ranges from classic enterprise resource planning to the new SAP S/4HANA business suite. In doing so, HEISAB covers all business management topics: Finance and Controlling, Quality and Service Management, Shipping and Inventory Management, Production and Maintenance, Materials Management, Sales and Marketing. The portfolio is completed by the services SAP Hosting, Application Services and Managed Services as well as proprietary or enhanced solutions based on SAP, such as the SAP Fiori® platform, which provides a variety of apps for the mobile use of SAP transactions. Customers include medium-sized companies and corporations from the manufacturing, mechanical engineering and automotive industries, as well as public institutions.
About ORBIS
ORBIS is an internationally active software and business consulting company. ORBIS advises and supports international groups and medium-sized companies - from IT strategy and system selection to business process optimization, system implementation and system integration. In doing so, ORBIS relies on the solutions of the market leaders SAP and Microsoft, with whom we have a close partnership. The core competencies include classic Enterprise Resource Planning (ERP), SAP S/4HANA, Supply Chain Management (SCM), Logistics (EWM/LES), Manufacturing Execution Systems (MES), Variant Management, Customer Relationship Management (CRM) On Premise and Cloud, Business Analytics (BI, EPM and Data Warehousing) and Product Lifecycle Management (PLM). As a reliable partner, ORBIS supports worldwide rollouts of ERP solutions and processes. Proprietary solutions for Industry 4.0, BI, MES, product costing and variant management as well as add-ons based on SAP complete the service portfolio. On the Microsoft Dynamics CRM platform, ORBIS offers mature proprietary industry solutions and best practices such as SAP integration. More than 1500 successfully implemented customer projects are proof of our many years of experience in the automotive supply industry, construction supply industry, electrical and electronics industry, mechanical and plant engineering, logistics, metal industry, consumer goods industry and trade as well as pharmaceuticals. Our long-standing customers include Bosch, Eberspächer, Edscha, Hager Group, Heineken Switzerland, Hörmann, hülsta, HYDAC INTERNATIONAL, Jungheinrich, KSB, KUKA Roboter, Magna, Melitta Haushaltsprodukte, Modine, Paul Hartmann, Pilz, Rittal, Schott, SCHUNK, Villeroy & Boch, WAGO Kontakttechnik and the ZF Group.
Contact for the press
ORBIS AG
Stephanie Schommer
Head of Marketing
Nell-Breuning-Allee 3 - 5
66115 Saarbrücken
Tel.: +49 (0)681/99 24-675
Fax: +49 (0)681/99 24-489
Mail: Stephanie.Schommer@orbis.de
Web: orbis.de