ORBIS switches to SAP S/4HANA: Benefit from the latest SAP technology, pass on know-how to customers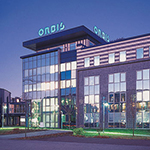 The migration to SAP S/4HANA is of strategic importance for the internationally active software and consulting company from Saarbrücken on its way into the digital world. With the new ERP suite, ORBIS can now optimize business processes in areas such as finance and carry out important digital innovation projects based on the latest SAP technology. This ensures investment security, also because mainstream maintenance for the SAP ERP application used to date expires in 2025.
The benefits of SAP S/4HANA are already making themselves felt: In Financial Accounting, all data from Financial Accounting (FI) and Controlling (CO) is now bundled centrally in the Universal Journal (ACDOCA table) and thus in a single document. The result is a "single source of truth" for the financial processes and time-consuming reconciliations between FI and CO are no longer necessary. Since the financial figures are processed at line item level, they can be conveniently evaluated with modern SAP Analytics tools at any level of detail and, thanks to in-memory technology, very quickly. In particular, aggregated analyses such as profit and loss balances (P&L) per cost center or project have accelerated significantly.
Asset accounting in accordance with IFRS 16, but also revenue recognition in accordance with IFRS 15 - which requires the SAP Revenue Accounting and Reporting (RAR) solution - will be mapped in SAP S/4HANA before the end of this year. This is a big plus as well as the possibility to replace the existing account solution with own ledgers for accounting according to HGB, IFRS, local regulations or with regard to the tax balance sheet, which exists since version 1709. End users also appreciate the improvements offered by SAP S/4HANA, especially the speed of data processing and analysis and the modern user experience with intuitive SAP Fiori interfaces.
And ORBIS customers who are planning to switch to SAP S/4HANA will also benefit. The IT service provider will pass on the experience and know-how gained in the course of system conversion to them and support them in choosing the right IT operating model and linking the ERP suite with non-SAP systems. An essential success factor for a quick, smooth and cost-efficient SAP S/4HANA implementation is that it is optimally prepared. You must adjust your own developments and convert customers and vendors to the central business partner (SAP Business Partner) or revenue calculation to SAP RAR at an early stage.
About ORBIS
ORBIS supports medium-sized companies as well as international corporations in the digitization of their business processes: from the joint development of the customer-specific big picture to the practical implementation in the project. The digitization and automation of business processes across the entire value chain ensures the competitiveness of our customers. The deep process know-how and the innovative strength of our 440 employees combined with the expertise of more than 30 years of successful, international project work in various industries make us a competent partner. We rely on the solutions and technologies of our partners SAP and Microsoft, whose portfolios are rounded off by ORBIS solutions. Our focus is on SAP S/4HANA, customer engagement and the implementation of the Smart Factory. On the basis of smart cloud technologies such as machine learning, cognitive services and IoT, we promote the innovative power of our customers in the development of innovative products, services and business models. Our expertise results from more than 2000 customer projects with more than 500 customers in the automotive supply industry, construction supply industry, electrical and electronics industry, mechanical and plant engineering, logistics, metal industry, consumer goods industry and trade. Longstanding customers include the ZF Group, Hörmann, Hager Group, Rittal, Kraftverkehr Nagel, ArcelorMittal, Montblanc, Bahlsen and Sonepar.

Contact person for the press
ORBIS AG
Mrs. Stephanie Schommer
Head of Marketing
Nell-Breuning-Avenue 3 - 5
66115 Saarbrücken, Germany
Phone: +49 (0)681/99 24-675
Fax: +49 (0)681/99 24-489
Mail: Stephanie.Schommer@orbis.de
Web: orbis.de