ORBIS and SNP bundle competencies for rapid switch to SAP S/4HANA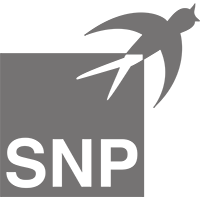 The internationally active software and business consulting company ORBIS AG from Saarbrücken and SNP Schneider-Neureither & Partner SE from Heidelberg have agreed to cooperate. The companies intend to pool their expertise in the area of SAP S/4HANA in the future and enable SAP user companies from the manufacturing sector to switch to the new ERP software suite quickly and at low risk using the innovative SNP BLUEFIELD™ method. This is intended to encourage companies to make the switch as soon as possible so that they can benefit from the advantages of SAP S/4HANA technology in terms of the digitalization of business processes at an early stage - a factor that is relevant for competition.
ORBIS AG's partnership with SNP, the world's leading provider of automated data migrations and digital business transformations, enables it to support existing customers, as well as new customers, even more efficiently in implementing their digital transformation agenda to SAP S/4HANA. The Saarbrücken-based IT service provider supports customers as a trusted advisor with a high level of consulting and process knowledge as well as in-depth expertise in SAP applications. Together, a "big picture" of the future process and system landscape is developed, and a roadmap is created and implemented on this basis. This is where SNP's cloud-based BLUEFIELD™ method comes into play. It can be used to automate the changeover to SAP S/4HANA, making it significantly faster and more streamlined compared to a new implementation (greenfield approach) or system conversion (brownfield approach). Since functions and data are migrated and updated in a single go-live project and the time-consuming redesign of existing SAP systems is eliminated, this significantly reduces the complexity in SAP transformation projects.
"With the synergies resulting from the partnership with SNP, customers from the manufacturing industry benefit from our consulting and process expertise in the SAP environment when migrating to SAP S/4HANA, optimally complemented by the BLUEFIELD™ method with its highly automated processes, which drastically shortens project runtimes. This is real added value, as is the fact that we offer customers all services from a single source and thus the best possible support," explains André Bohe, Head of the SAP S/4HANA Business Center at ORBIS AG.
About SNP
SNP software solutions and services enable companies to quickly and securely implement technical and process changes in their SAP ERP systems, adapt their business models and leverage new technologies. With the world's leading digital transformation platform CrystalBridge® and the innovative SNP BLUEFIELD™ approach, the changes in the IT systems are automatically analyzed, implemented and tracked. This offers clear quality benefits and significantly reduces the time and costs involved in transformation projects. The SNP Group employs over 1,300 employees* worldwide. The company, which is headquartered in Heidelberg, generated sales of around 131 million euros in fiscal year 2018. SNP customers are global companies from all industries. SNP was founded in 1994 and has been listed on the stock exchange since 2000. Since August 2014, the company has been listed in the Prime Standard of the Frankfurt Stock Exchange (ISIN DE0007203705). Since 2017, the company has been operating as a European stock corporation (Societas Europaea / SE).
Further information on SNP is available at snpgroup.com.
About ORBIS
ORBIS accompanies medium-sized companies as well as international corporations in the digitalization of their business processes: from the joint development of the customer-specific Big Picture to the practical implementation in the project. The digitalization and automation of business processes across the entire value chain ensure the competitiveness of our customers. The in-depth process know-how and innovative strength of our 550 employees combined with the expertise gained from more than 30 years of successful, international project work in various industries make us a competent partner. We rely on the solutions and technologies of our partners SAP and Microsoft, whose portfolios are rounded off by ORBIS solutions. Our focus is on SAP S/4HANA, Customer Engagement and the realization of the Smart Factory. On the basis of smart cloud technologies such as Machine Learning, Cognitive Services or IoT, we promote the innovative power of our customers in the development of innovative products, services and business models. Our expertise results from over 2,000 customer projects at more than 500 customers in the automotive supply industry, construction supply industry, electrical and electronics industry, mechanical and plant engineering, logistics, metal industry, consumer goods industry and retail. Long-standing customers include the ZF Group, Hörmann, Hager Group, Rittal, Kraftverkehr Nagel, ArcelorMittal, Montblanc, Bahlsen and Sonepar.
Contact for the press
ORBIS AG
Silke Manderscheid
Head of Marketing
Nell-Breuning-Allee 3 - 5
66115 Saarbrücken
Tel.: +49 (0)681 99 24-361
Fax: +49 (0)681 99 24 489
Mail: silke.manderscheid(at)orbis.de
Web: https://www.orbis.de