Member of the Inner Circle: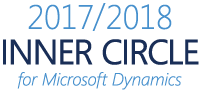 ORBIS AG is once again one of the world's best Microsoft Dynamics partners
ORBIS AG has once again received the prestigious "Inner Circle Award" this year. As a member of the exclusive Inner Circle, ORBIS belongs to the circle of the world's most successful and best one percent of partners from the Microsoft Dynamics network in terms of sales and exceptional successes in customer projects and is thus one of Microsoft's strategically most important partners in this area. ORBIS, a Microsoft Gold Certified Partner and leading provider of Microsoft Dynamics 365, Microsoft SharePoint and Business Analytics, accepted the "Inner Circle Award" at the Inspire World Partner Conference (formerly: Worldwide Partner Conference, WPC), which will take place in Washington/USA from July 9 to 13, 2017.
The hurdles for admission to the Inner Circle are high. The decisive factors are sustainable growth and sales successes, above-average customer satisfaction and an excellent market position. As a member of the Inner Circle committee, ORBIS is in constant dialog with Microsoft regarding the further development of Microsoft Dynamics 365 and in return receives information about technical innovations at Microsoft at an early stage. These can be passed on promptly to customers, who benefit greatly from them.
During the partner conference, ORBIS also received the coveted Microsoft Country Partner of the Year Award from Microsoft - the only one of more than 30,000 Microsoft partners in Germany to be presented with this award. This award, which ORBIS already received in May 2017, recognizes the outstanding solutions and services and the excellent entrepreneurial commitment as a Microsoft Dynamics partner in Germany in the development of innovative products and services based on Microsoft technologies.
"We are very honored to receive the prestigious 'Inner Circle Award' for Microsoft Dynamics and to be named Microsoft Country Partner of the Year. They are a seal of quality that confirms our performance strength in the area of Microsoft Dynamics, and another milestone in our strategic partnership with Microsoft", explains Michael Jung, Business Unit Manager Microsoft Dynamics 365 at ORBIS. Markus Backes, also Business Unit Manager Microsoft Dynamics 365 at ORBIS, adds: "The awards are at the same time an incentive to continue developing and introducing innovative solutions based on Microsoft in order to provide customers with the best possible support on their path to digital transformation." To this end, ORBIS offers numerous industry solutions certified by Microsoft on the basis of the Microsoft Dynamics 365 platform, as well as add-ons for process optimization that have proven themselves in practice many times over.
About ORBIS
ORBIS is an internationally active software and business consulting company. With around 400 employees, ORBIS advises and supports international corporations and medium-sized companies - from IT strategy and business process optimization to system implementation and system integration. In doing so, ORBIS relies on the solutions of the market leaders Microsoft and SAP, with whom we have a close partnership. On the Microsoft Dynamics CRM platform, ORBIS offers its own certified industry solutions and best practices such as the SAP integration or service management solution and also sells these in Austria, Switzerland and the USA. In addition to CRM and BI, the close cooperation with Microsoft also extends to the Microsoft SharePoint and Office 365 platforms as well as Industry 4.0 and Microsoft Cloud Services. More than 1500 successfully implemented customer projects are proof of our many years of experience in the automotive, construction supply, service, manufacturing, consumer goods, mechanical and plant engineering, and logistics industries. Our long-standing customers include ARDEX, Bauer Maschinen, Bystronic, DencoHappel, Freudenberg, Heineken Switzerland, Herrenknecht, Herta, ifm electronic, KTR Kupplungstechnik, LAPP Insulators, Montblanc, Streck Transport, Webasto, Wolf Gruppe and ZF.
Contact for the press
ORBIS AG
Bettina Gassen
Head of Marketing
Nell-Breuning-Allee 3 - 5
66115 Saarbrücken

Tel.: +49 (0)681/99 24-692
Mail: bettina.gassen@orbis.de
Web: orbis.de