HÖRMANN and ORBIS agree strategic partnership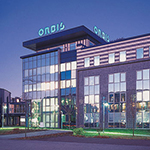 The Hörmann Group, the innovative market leader for gates, doors, frames, operators and perimeter protection systems, is taking a stake of around 28% in the Saarbrücken-based IT consulting company ORBIS AG, pending on the approval of the antitrust authorities. This makes Hörmann the largest "anchor" shareholder. The co-founders and board members of ORBIS AG, Thomas Gard and Stefan Mailänder, will continue to hold a stake of more than 15%. With ORBIS, Hörmann gains a long-term committed partner to secure its own growth strategy. ORBIS will continue to act freely in the market and will concentrate on expanding its consulting and product business. As a part of the digitization, the companies want to contribute joint know-how in innovative topics, from which customers will also benefit.
Hörmann is a long-standing and important customer of ORBIS. The companies have been working successfully and in partnership in IT Projects and Support for more than 15 years. Both companies continue to focus on their rescpective core business.
ORBIS as preferred Partner will advice Hörmann on the expansion of the IT strategy and the digitalization of processes. At the same time, Hörmann beneftis from the best practices from numerous projects and extensive industry expertise of ORBIS. The aim oft the cooperation is also the joint development of resources as part of the internationalization strategy of both companies.
"ORBIS has successfully supported us in projects and support for many years. We are looking forward to an even closer partnership at eye level, as many sales and production companies will still be equipped with SAP and Microsoft technology in the coming years.", said Martin J. Hörmann, personally liable partner of Hörmann.
For ORBIS, Hörmann's stake taking means long-term safeguarding of the company success. Joint innovation projects accelerate the development of know-how in the fast moving IT environment. By expanding its global support, ORBIS is continuously broadening its range of services in the market.
"We are convinced that with the stake taking of the family-run company Hörmann as anchor shareholder, the course has been set at ORBIS for sustainable corporate development" commented Thomas Gard, CEO of ORBIS
ORBIS continues to attach great importance to excellent customer service. They benefit from the sustained expansion of know-how in digitalization and the expansion of the international presence.
About ORBIS
ORBIS helps medium-sized companies and international corporations digitize their business processes: from the joint elaboration of customized 'big pictures' to the practical implementation of projects. The digitalization and automation of business processes along the entire value chain ensure the competitiveness of our customers.
The process-related know-how and innovative flair of our 650 employees combined with the expertise gained from 30-plus years of successfully undertaking international projects in various sectors make us a competent partner. We rely on the solutions and technologies SAP and Microsoft, our partners whose portfolios are complemented by ORBIS solutions. Our focus is on SAP S/4HANA, customer engagement and the realization of the smart factory. On the basis of smart cloud technologies like machine learning, cognitive services and IoT, we encourage our customers to be creative in the development of innovative products, services and business models.
Our expertise derives from 2,000-plus customer projects for more than 500 clients in the sectors of automotive supplies, construction supplies, electrical/electronics, mechanical and plant engineering, logistics, metal, consumer goods and trade. Long-standing customers include the ZF Group, Hörmann, Hager Group, Rittal, Kraftverkehr Nagel, ArcelorMittal, Montblanc, Bahlsen and Sonepar.
About HÖRMANN
The Hörmann Group is Europe's leading door supplier. More than 6,000 employees in 36 specialised factories in Europe, North America and Asia develop and produce high-quality doors, frames, operators and perimeter protection systems for use in private and commercial properties.
The headquarters of the globally active Hörmann Group is located in the small town of Steinhagen, near Bielefeld, Germany. The still family-run company recently recorded an annual turnover of more than 1 billion euros.
Hörmann grew and established its reputation with garage doors for homes. Today, the variety of doors, as well as matching operators, is still a very important pillar in its product range. In this sector, Hörmann additionally produces high-quality entrance and side doors, residential doors made of timber and glass, as well as sheet steel doors and door frames. Hörmann also plans and installs fire protection and multi-function door systems for construction projects.
Industrial door systems are a further sector, including sectional doors and rolling doors – all controlled manually or via an operator and control system. Further, Hörmann supplies complete loading technology solutions comprising dock shelters, seals, dock levellers, and loading houses. The product range has also been expanded to include perimeter protection systems. These include high security bollards and barriers to protect against unauthorised access to public and private areas.
Hörmann products protect people and assets. The brand stands for appealing design, maximum functionality and durability; it links German quality with innovation and the best service. Hörmann is present with 14 regional sales offices in Germany and over 100 individual sales locations in more than 40 countries, and is represented by sales partners in over 50 other countries.
Press contact
ORBIS AG
Frau Silke Manderscheid
Director Marketing
Nell-Breuning-Allee 3 - 5
66115 Saarbrücken
Tel.: +49 (0)681 99 24 361
Fax: +49 (0)681 99 24 489
Mail: silke.manderscheid(at)orbis.de
Web: orbis.de