ORBIS successful in the first half of 2017: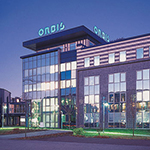 The Saarbrücken-based software and business consulting company ORBIS AG, which is listed in the General Standard, was again able to demonstrate sustained successful business development in the first half of 2017.
Consolidated sales increased by 7.6% year-on-year to € 24,928k (previous year: € 23,169k).
Operating profit (EBIT) improved by 13.7 % year-on-year to € 1,232k in the reporting period (previous year: € 1,084k). The EBIT margin in relation to sales thus amounts to 4.9 %.
Earnings before taxes of € 1,136k (previous year: € 1,054k) are reported for the first half of 2017. This corresponds to around 4.6% of sales.
As of the balance sheet date, all tax loss carryforwards have already been capitalized. The utilization of the capitalized loss carryforwards therefore results in a reduction in the deferred tax assets reported, which is then included in the tax expense from deferred taxes. As a result, the reported tax rate in the current year is around 30% overall.
After taking into account the tax expense totaling € 341 thousand, ORBIS AG thus generated consolidated earnings of € 795 thousand (previous year: € 727 thousand). Taking into account the profit shares of other shareholders (minority interests) in the amount of € 120 thousand, the consolidated net profit for the shareholders of ORBIS AG for the first half of 2017 amounts to € 675 thousand (previous year: € 716 thousand).
This corresponds to earnings of 8 cents per share for the first half of 2017.
Cash and cash equivalents increased from € 10,949k as of December 31, 2016 to € 11,180k. In the first half of 2017, the cash inflow from operating activities amounted to € 1,709k (previous year: € 1,726k).
ORBIS' equity amounted to €20,349 thousand as of June 30, 2017 (December 31, 2016: €20,716 thousand), corresponding to an equity ratio of 58.1%.
In the first half of 2017, ORBIS employed an average of 407 people (previous year: 371).
ORBIS sees itself well positioned for the second half of 2017 and in the medium term. We can continue to expand our competitive position in the area of MS-CRM as well as in the process consulting topics focused on the SAP environment in the future through further investments in the expansion of our solution and software offering. Provided that the economic environment described above is not negatively impacted by the world's impending conflict with North Korea or a decline in demand from the global economy as a result of the increasing economic protectionism of many countries, we continue to expect an increase in revenue and stable earnings development for the full year 2017.
For further information, please contact: www.orbis.de
or
Dr. Sabine Stürmer, Head of Investor Relations at ORBIS AG
Tel: +49 (0)681 99 24 605, E-Mail: sabine.stuermer@orbis.de