ORBIS AG records significant growth in the first six months of 2019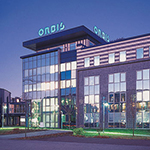 As in previous years, ORBIS AG, the Saarbrücken-based software and business consulting company listed in the General Standard, started the 2019 financial year with a very positive order situation and very good utilization of its consulting capacities.
For example, ORBIS recorded significant year-on-year growth in the first half of 2019. Consolidated sales increased by 28.0% year on year to €35,420 thousand (previous year: €27,683 thousand).
The operating result (EBIT) saw a 15.3% year-on-year improvement to €1,692 thousand in the period under review (previous year: €1,468 thousand). The EBIT margin in relation to sales is therefore 4.8%.
Earnings before taxes of €1,618 thousand (previous year: €1,497 thousand) were reported for the first half of 2019.
ORBIS AG generated a consolidated result of €833 thousand (previous year: €734 thousand).
This corresponds to a result of 9 cents per share for the first half of 2019.
There was an inflow of cash and cash equivalents from operating activities of €699 thousand (previous year: -€2,646 thousand) in the first half of 2019. Cash and cash equivalents as at June 30, 2019, amount to €9,678 thousand.
The number of employees as at June 30, 2019, also saw a significant 17.9% increase to 539 (previous year: 457), here resulting in part from the previous year's corporate investments.
DORBIS AG acquired a majority 51% stake in Bielefeld-based Dialog Gesellschaft für Projekt- und Prozessberatung mbH on July 3, 2019. Dialog GmbH is a consulting specialist for SAP processes in finance, controlling, production and logistics for automotive suppliers, companies from the chemicals and food industries, not to mention discrete manufacturing and retail. Another core competence is project management (planning, coordination, control) and project risk management.
Recent years have seen Dialog GmbH realize annual sales of approx. €2 – €2.5 million with about 10 permanently employed consultants and several freelancers. Dialog has also been working with ORBIS AG as a subcontractor on various customer projects for years now.
ORBIS AG considers its majority stake in Dialog to be a strategically important building block for expanding its presence at the Bielefeld site and in the East Westphalia region.
ORBIS AG has submitted an offer to purchase 100% of the shares in the IT service provider Data One GmbH, which is also headquartered in Saarbrücken.
By acquiring Data One GmbH, ORBIS AG would complement its range of service and software solutions in both the Microsoft area (Modern Workplace, technical consulting for operations) and the SAP area (cloud business with SuccessFactors, Business ByDesign and SAP S/4HANA Cloud).
Provided that the economic environment described above does not weaken further than forecast due to a decline in demand in the global economy on account of the increasing economic protectionism in many countries, we expect ORBIS AG's business activities to continue to develop positively in the current and subsequent fiscal years.
For more information, please visit: orbis.de
or contact
Dr. Sabine Stürmer, Head of Investor Relations at ORBIS AG
Tel: +49 (0)681 99 24 605, E-Mail: sabine.stuermer(at)orbis.de