ORBIS AG's shareholders are satisfied and confident: ORBIS is enjoying dynamic business growth and is well positioned for the future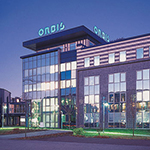 The Ordinary General Meeting of ORBIS AG (ISIN DE0005228779), the Saarbrücken-based software and business consulting company, was again held not far from the company's head office on the Saarterrassen in E-Werk Saarbrücken. Around 360 shareholders looked back on a successful financial year in 2017. Due to the positive business performance and the solid balance sheet structure, a proposal was made to the General Meeting that an increased dividend of 14 cents per share compared to the previous year be generated from the net profit for the past 2017 financial year. The actions of the Executive Board and Supervisory Board were approved by the Meeting.
The shareholders' meeting re-appointed RSM GmbH, Wirtschaftsprüfungsgesellschaft Steuerberatungsgesellschaft, Georg-Glock-Strasse 4, 40474 Düsseldorf, Germany, as the auditor and group auditor for the 2018 financial year. All votes at the General Meeting were adopted almost unanimously in accordance with Management's proposals.
Stefan Mailänder (the Chief Financial Officer) outlined the business development for 2017 at the General Meeting.
ORBIS recorded 9.4% growth in consolidated sales to €50,357 thousand in the 2017 financial year (previous year: €46,014 thousand). The operating result (EBIT) saw a 16.3% year-on-year improvement to €2,496 thousand in the period under review (previous year: €2,146 thousand).
Earnings before taxes (EBT) grew by 11.81% to €2,484 thousand (previous year: €2,203 thousand). ORBIS AG generated a consolidated result after taxes and minority interests amounting to €1,659 thousand (previous year: €1,485 thousand), representing an increase of 11.7%. Earnings per share were up 12.6% to around 20 cents per share (previous year: 18 cents per share).
The cash flow from operating activities is clearly positive at €2,813 thousand.
As at December 31, 2017, the funds amounted to €11,991 thousand. This is an increase of 9.5% compared to the previous year (€10,949 thousand).
As at December 31, 2017, ORBIS AG's equity increased to €21,734 thousand. This corresponds to an equity ratio of 58.1%.
The number of employees as at December 31, 2017, increased by 12.7% from 387 to 436 employees.
In his remarks, Mr. Thomas Gard (Spokesman of ORBIS AG's Executive Board), emphasized that in 2017 the company had once again succeeded in reaching numerous customers and prospects with the consulting services and products that ORBIS offers.
ORBIS has successfully positioned itself as a business process consulting company, he said. He then added that ORBIS relies on the solutions of its partners SAP and Microsoft, as well as on its own proprietary products. The proprietary products and solutions complemented and refined SAP's and Microsoft's processes. As Mr. Gard explained, these solutions allow ORBIS to provide customers with comprehensive support in optimizing the entire process chain: from customer and sales processes, over production and logistics processes, to commercial and administrative processes. He added that ORBIS is also supporting the ongoing operation of these solutions on customer sites.
Mr. Gard emphasized that topics relating to digitalization and Industry 4.0 played an important role for companies. ORBIS's goal, he remarked, is to stand by its customers as a partner for the digital transformation.
Consulting would particularly focus on the core processes in customer engagement in the Smart Factory. He added that customer engagement encompasses all processes leading to customers, before going on to say that ORBIS supports the processes by providing cloud technologies from Microsoft and SAP.
Mr. Gard clarified that, with digitalization, ORBIS helps customers to automate processes and, therefore, significantly optimize payroll/unit costs. Throughput times and downtimes would also be noticeably improved.
He went on to comment that the knowledge and solutions at ORBIS are also an excellent basis for driving forward future growth. Continued investment in innovation, expertise and the recruitment of new employees would be essential to achieving this, but the situation on the IT labor market remains difficult, Mr. Gard warned. Mr. Gard believes that there are great opportunities for ORBIS in the future.
The shareholders were very pleased with the successful business performance in 2017 and ORBIS's good prospects for the future.
About ORBIS
ORBIS is an international software and business consulting company. With around 400 employees, ORBIS advises and supports international corporations and small and medium-sized enterprises in issues ranging from their IT strategy and the optimization of their business processes to system selection, system implementation and system integration. ORBIS uses solutions from the market leaders SAP and Microsoft, companies that ORBIS shares a close partnership with. Its core competencies cover classic enterprise resource planning (ERP), SAP S/4HANA, supply chain management (SCM), logistics execution (EWM/LES), manufacturing execution systems (MESs), variant management, customer relationship management (CRM), on-prem and cloud, business analytics (BI, EPM and data warehousing) and product lifecycle management (PLM). As a reliable business partner, ORBIS can support its customers in the rollouts of ERP solutions and processes worldwide. Its service portfolio is rounded off by its proprietary solutions for Industry 4.0, BI, MES, product costing and variant management, not to mention SAP-based add-ons. On the Microsoft Dynamics CRM platform, ORBIS offers sophisticated and proprietary sector solutions and best practices such as SAP integration. Over 1,500 successfully completed customer projects bear witness to ORBIS's many years of experience in the automotive supply, building supplier, electrical and electronic industries, not to mention mechanical and plant engineering, logistics, metal, consumer goods, retail and pharmaceuticals. To name but a few examples, ORBIS's long-standing customer base includes Bosch, Eberspächer, Edscha, Hager Group, Heineken Switzerland, Hörmann, hülsta, HYDAC INTERNATIONAL, Jungheinrich, KSB, KUKA Roboter, Magna, Melitta Haushaltsprodukte, Modine, Paul Hartmann, Pilz, Rittal, Schott, SCHUNK, Villeroy & Boch, WAGO Kontakttechnik and the ZF Group.
For more information, please visit: orbis.de
or contact
Dr. Sabine Stürmer, Head of Investor Relations at ORBIS AG
Tel: +49 (0)681 99 24 605, E-Mail: sabine.stuermer@orbis.de