Digital transformation at Triflex: ORBIS implements Microsoft Dynamics 365 in four months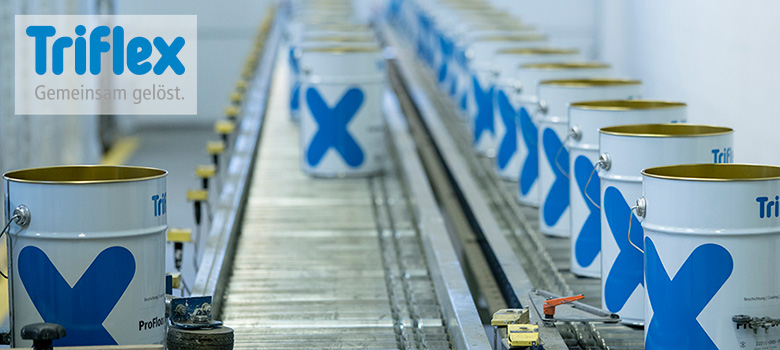 ORBIS AG has implemented Microsoft Dynamics 365 Online and the ORBIS ConstructionONE solution for the construction supply industry at Triflex in Minden, Germany, in just under four months – while adhering to schedule and budget. Decisive factors for the rapid implementation were the Saarbrücken-based IT service provider's broad expertise in Microsoft Dynamics 365 and CRM processes for construction suppliers, plus the trusting cooperation of all parties involved.
With Microsoft Dynamics 365, Triflex (a leading specialist in liquid waterproofing and cold plastics) is taking an important step in its strategy to harmonize its IT landscape and network data flows and processes in sales and marketing. This applies particularly to the quotation process, which is now completely IT-supported and thus very efficiently implemented. For this purpose, the cloud CRM solution was linked to the existing CPQ solution, whereby the CRM system exchanges data bidirectionally with the central SAP ERP system by means of the ORBIS SAP IntegrationONE solution.
Microsoft Dynamics 365 also manages sales-related data uniformly and in high quality as a 'single source of truth'. This creates the transparency that is necessary for Triflex to be very close to its customers, which include craftsmen and specialist companies for waterproofing and coatings, as well as general contractors. This is a critical success factor, because the company sells its products, solutions and systems exclusively directly to its approximately 4500 customers.
Thanks to central data storage in the cloud, sales users can access all the information they need for their work via the CRM at the click of a mouse – anytime and anywhere, in a clearly visualized form, even if the data has been newly entered. Daily tasks can thus be completed much more easily and quickly. Thanks to Computer Telephony Integration (CTI), the ability to access and provide information has also improved.
Marketing also benefits greatly from Microsoft Dynamics 365: since the CRM solution stores information regarding training courses trade partners have attended, it knows their training status and can offer further measures to suit their needs. Marketing uses the ClickDimensions add-on, which is seamlessly integrated into Microsoft Dynamics 365, for training purposes and also for event campaigns and trade fair presentations. In future, it is planned that customers will register themselves for an event and the registration data will flow directly into the CRM, where it will be compared with the registrations. This promises more efficiency in follow-up campaigns.
In summary: the CRM solution, which is rolled out in Germany, France, Great Britain, Austria, and Switzerland will be used by around 200 users in the final stage of development. The solution is constantly optimized and expanded with new functionality, such as the digitally automated recording of trade fair contacts and a mobile smartphone app for the sales force.

About Triflex
Triflex GmbH & Co KG in Minden, Germany, is the leading European specialist for liquid waterproofing and cold plastics. Their high-quality systems provide durable and reliable waterproofing for balconies, flat and industrial roofs, parking decks, stadiums and even historical monuments. As a pioneer in PMMA technology, Triflex offers suitable waterproofing and coating systems for all challenges by means of a wide range of coordinated components. Triflex also sets standards with its marking systems for roads, cycle paths and halls. The company offers comprehensive services to specialist craftsmen, architects and private building owners. This includes specialist seminars and training courses, IT tools and apps plus technical documentation for downloading. In 2019, the company – which is part of the Follmann Chemie Group – achieved a turnover of more than €100 million with over 250 employees.
Further information is available at triflex.com
About ORBIS
ORBIS accompanies mid-sized companies as well as international corporations in the digitization of their business processes: from the joint development of the customer-specific 'big picture' to the practical project implementation. The digitization and automation of business processes across the entire value chain ensures the competitiveness of our customers. We are a competent partner due to the in-depth process know-how and innovative strength of our 550 employees combined with the expertise gained from over 30 years of successful international project work in various industries. We rely on the solutions and technologies of our partners SAP and Microsoft, whose portfolios are rounded off by ORBIS industry-specific solutions. Our focus is on SAP S/4HANA, customer engagement and the realization of the Smart Factory. On the basis of smart cloud technologies such as Machine Learning, Cognitive Services or IoT, we support our customers' innovative strength in the development of groundbreaking products, services and business models. Our expertise results from over 2000 projects with more than 500 customers in the automotive supply industry, construction supply industry, electrical and electronics industry, mechanical and plant engineering, logistics, metal industry, consumer goods industry and trade. Long-standing customers include the ZF Group, Hörmann, Hager Group, Rittal, Kraftverkehr Nagel, ArcelorMittal, Montblanc, Bahlsen and Sonepar.
Press Officer
ORBIS AG
Bettina Gassen
Marketing Manager
Nell-Breuning-Allee 3 - 5
66115 Saarbrücken
Phone: +49 (0)681/99 24-692
Mail: bettina.gassen(at)orbis.de
Web: orbis.de