ORBIS continues expansion course: Founding of ORBIS SE Netherlands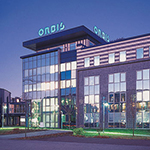 The international software and business consulting firm ORBIS SE is now also represented in the Netherlands with its own location thanks to the founding of ORBIS SE Netherlands, located in Eindhoven. The Saarbrücken-based IT service provider is consistently continuing its course of expansion and growth with this step.
The business focus of ORBIS SE Netherlands is on sales, consulting and implementation of Microsoft Dynamics 365 Customer Engagement and the Microsoft Power Platform in the Netherlands as well as in the Flemish part of Belgium. This means a real added value for the ORBIS Microsoft customers and new customers located there. They will now benefit directly from the comprehensive consulting and process know-how of the IT service provider when it comes to Microsoft Dynamics 365 Customer Engagement and the Power Platform, as well as the process digitialization and optimization, as well as from their industry expertise. This is proven by their many own tried-and-true industry packages based on Microsoft Dynamics 365, which precisely and efficiently map the specific process requirements of companies from the automotive and construction supply industry, from the consumer goods industry and the discrete manufacturing industry.
By founding the new company in the Netherlands, ORBIS is strengthening its presence in this strategically important market where the company has already been active in the SAP environment since 2019 with its majority stake in the SAP partner Quinso B.V. For customers in the Netherlands who use solutions from Microsoft Dynamics 365 Customer Engagement as well as business software from SAP, this results in many diverse synergies - which is another big plus.
Michael Jung, member of the management board of ORBIS SE Microsoft business unit, commented: "Thanks to the new company in the Netherlands, we offer even more proximity as well as better and more individualized consultation and services to our customers and new customers for Microsoft Dynamics 365 Customer Engagement located there. Companies that use business solutions from Microsoft and SAP also benefit from many diverse synergies. The opening of this location is at the same time another step on the path towards specifically expanding international business, especially in Europe, as part of our long-term expansion and growth strategy."
The Dutch market is also very important to Microsoft. This is shown by the fact that the software manufacturer is actively supporting ORBIS' market entry, which is a member of the "Inner Circle" and therefore the world's most successful, best and strategically important one percent of partners for Microsoft Business Applications, with special events and promotions. Rob Nehrbas, Biz Apps & Industry BG Lead Western Europe at Microsoft, says, "I am delighted that with ORBIS SE one of our most successful Microsoft-Dynamics partners has opened a presence in the Netherlands. With their industry focus and their experience, I expect that ORBIS will provide a high level of added value to the Dutch market."
About ORBIS
ORBIS helps SMEs and international corporations to digitalize their business processes – from jointly developing the customer-specific big picture, to practical implementation in the project. The digitalization and automation of business processes across the entire value chain ensure our customers' competitiveness. The in-depth process know-how and innovative strength of our more than 750 employees, combined with the expertise gained from more than 35 years of successful, international project work in various industries, make us a competent partner. We rely on the solutions and technologies of our partners SAP and Microsoft, whose portfolios are rounded off by ORBIS solutions. Our focus in this regard is on SAP S/4HANA, customer engagement and turning the Smart Factory into a reality. Using smart cloud technologies such as machine learning, cognitive services or the IoT as a basis, we promote our customers' innovative strength in the development of innovative products, services and business models. Our expertise results from over 2,000 customer projects in more than 500 customers operating in the automotive supply industry, construction supply industry, electrical and electronics industry, mechanical and plant engineering, logistics, metal industry, consumer goods industry and trade. Long-standing customers include the ZF Group, Hörmann, Hager Group, Rittal, Kraftverkehr Nagel, ArcelorMittal, Montblanc, Bahlsen and Sonepar.
Press contact
ORBIS SE
Bettina Gassen
Marketing Director
Nell-Breuning-Allee 3 - 5
66115 Saarbrücken
Tel.: +49 (0)681 99 24-692
Email: bettina.gassen@orbis.de
Web: www.orbis.de