ORBIS SE considerably exceeds turnover expectations in the 2021 financial year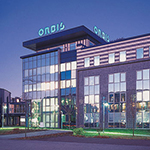 ORBIS SE, the Saarbrücken-based software and business consulting company listed in the General Standard, has published its 2021 consolidated annual report.
In 2021, ORBIS can once again look back on a financial year when it enjoyed a significant increase in Group turnover and an improvement in earnings. The range of services that ORBIS offers was further strengthened with the establishment of the subsidiary ORBIS People GmbH and investments made in new products.
According to the annual report, ORBIS recorded a 14.6% year-on-year increase in turnover to €98,399 thousand at Group level in the 2021 financial year (2020: €85,897 thousand). The number of employees rose by 14.1% to 759 as at December 31, 2021 (2020: 665 employees).
The operating result (EBIT) grew by 3.6% to €4,437 thousand (2020: €4,283 thousand).
The share of the consolidated result attributable to the shareholders of ORBIS SE amounts to €2,369 thousand after taxes and minority interests, making it 22.0% higher than in the previous year (2020: €1,942 thousand).
Due to the positive cash flow from operating activities, ORBIS has cash and cash equivalents of €24,107 thousand (2020: €26,063 thousand) despite the investments in expanding the site in Saarbrücken and investments in building on business operations.
The Executive Board and Supervisory Board will therefore propose a dividend payment of 20 cents per share at the 2022 Annual General Meeting.
As an internationally active software and business consulting company, ORBIS SE operates in the industrial, automotive supply, consumer goods and retail sectors, not to mention the construction supply industry. Digitalization is at the top of the agenda for all companies.
ORBIS has established itself as a competent partner on the road to the digital future. ORBIS expects this to give it further competitive advantages over other market participants in the future.
It must be assumed that, in addition to the after-effects of the coronavirus pandemic, the escalating Russia / Ukraine conflict in 2022 in particular will have an impact on the business activities of ORBIS's customers and on their willingness to start new projects.
But ORBIS is still planning to invest in 2022 with a moderate increase in the number of new employees, not to mention in training and further education. Further acquisitions to expand the service portfolio are also being considered due to ORBIS SE's positive financial situation, provided that suitable opportunities arise.
Assuming that the current crisis situation in the economy does not escalate further due to a war in Europe, ORBIS expects turnover growth in the single-digit percentage range and a positive EBIT margin of between 4% and 5% for the 2022 financial year.
About ORBIS
ORBIS helps SMEs and international corporations to digitalize their business processes – from jointly developing the customer-specific big picture, to practical implementation in the project. The digitalization and automation of business processes across the entire value chain ensure our customers' competitiveness. The profound process-related know-how and innovative strength of our 750 employees, combined with the expertise gained from 35-plus years of successfully undertaking international projects in various sectors, make us a competent partner. We rely on the solutions and technologies of our partners SAP and Microsoft, whose portfolios are rounded off by ORBIS solutions. Our focus in this regard is on SAP S/4HANA, customer engagement and turning the smart factory into a reality. Using smart cloud technologies such as machine learning, cognitive services or the IoT as a basis, we promote our customers' innovative power in the development of innovative products, services and business models. Our expertise results from over 2,000 customer projects in more than 500 customers operating in the automotive supply industry, construction supply industry, electrical and electronics industry, mechanical and plant engineering, logistics, metal industry, consumer goods industry and trade. To name but a few examples, our long-standing customers include the ZF Group, Hörmann, Hager Group, Rittal, Andreas Stihl, BEUMER Group, NETZSCH Pumpen & Systeme, Paul Hartmann, Sick, Bystronic, Ferrum, Halter, Bruker, V-ZUG, Yanmar Marine International, Exerion Präzisionstechnik, CoreDux, Royal Avebe, Ottakringer and LiSEC.
For more information, please contact: www.orbis.de
or
Dr. Sabine Stürmer, Head of Investor Relations der ORBIS SE
Tel: +49 (0)681 99 24 605, E-Mail: sabine.stuermer(at)orbis.de