ORBIS with good business development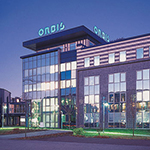 The Saarbrücken-based software and business consulting firm ORBIS AG recorded a group revenue growth of 9.4% to € 50,357 in the 2017 financial year (previous year: € 46,014).
The operating result (EBIT) improved in the reporting period by 16.3% to € 2,496 (previous year: € 2,146).
Earnings before taxes (EBT) increased by 12.8% to € 2,484 (previous year: € 2,203).
ORBIS AG generates group net income after taxes and minority interests amounting to € 1,659 (previous year: € 1,485); which is an increase of 11.7%.
Earnings per share increased by 12.6% to around 20 cents per share (previous year: 18 cents per share)
For the 2017 fiscal year, an increased dividend of 14 cents per share is planned.
The cash flow from operating activities is clearly positive at € 2,813.
As of 31 December 2017, the funds amounted to € 11,991.
As of 31 December 2017 the equity of ORBIS AG increased to € 21,734. This corresponds to an equity ratio of 58.1%.
The number of employees as of December 31, 2017 increased from 387 to 436 employees.

ORBIS supports medium-sized companies as well as international corporations in the digitization of their business processes: from the joint elaboration of the customized Big Pictures to the practical implementation of the project. The digitization and automation of business processes along the entire value chain ensure the competitiveness of our customers.
ORBIS relies on the solutions and technologies of the partners SAP and Microsoft, whose portfolios are rounded off by ORBIS solutions. The focus is on SAP S/4HANA, customer engagement and the realization of the Smart Factory. Based on smart cloud technologies such as Machine Learning, Cognitive Services or the Internet of Things (IoT), ORBIS promotes the innovative power of customers in the development of innovative products, services and business models.
The ORBIS consulting covers the processes in Production, Logistics & Supply Chain Management, Sales, Service & Marketing, Finance & Controlling, Product Lifecycle Management and Human Resources. With state-of-the-art business analytics methods, ORBIS supports the management and departments in the visualization, analysis and analysis of extensive data. ORBIS is also a reliable partner for worldwide rollouts.
Our own solutions for Industry 4.0 such as MES & Intralogistics, product cost calculation and variant management complete ORBIS the service portfolio. On the Microsoft Dynamics 365 platform, ORBIS provides certified industry solutions and best practices, such as SAP integration and solutions for digitizing and automating customer and field service processes.
The ORBIS' expertise is the result of over 2000 customer projects for more than 500 customers in the automotive supply industry, construction supply industry, electrical and electronics industry, mechanical and plant engineering, logistics, metal industry, consumer goods industry, trade and pharmaceuticals.
Long-standing customers include Eberspächer, Edscha, Hager Group, Heineken Switzerland, Hörmann, hülsta, HYDAC INTERNATIONAL, Jungheinrich, KSB, KUKA Roboter, Magna, Modine, Paul Hartmann, Pilz, Rittal, Schott, SCHUNK, Villeroy & Boch, WAGO Kontakttechnik and the ZF Group.
Unless the economic environment is negatively impacted by a decline in global demand as a result of current changes in economic policy interests, ORBIS expects a continued positive business development in the 2018 financial year. Despite the already high order backlog for the full 2018 financial year, ORBIS expects the revenue growth and EBIT improvement to be in the single-digit percentage range compared to the previous year due to the continuing difficult situation in the IT job market.

Contact:

Dr. Sabine Stürmer, Head of Investor Relations at ORBIS AG
Tel: +49 (0)681 99 24 605, E-Mail: sabine.stuermer(at)orbis.de