ORBIS AG expands its Management Board and raises the forecast for 2018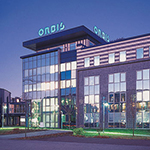 The software and business consulting company ORBIS AG, listed on the General Standard, has appointed Michael Jung and Frank Schmelzer as additional members of the Management Board with effect from October 1, 2018. Both commenced their careers at ORBIS after graduating in business administration. They have both worked in various management positions within the company for more than 30 years.
Michael Jung will be in charge of the Microsoft business unit as member of the Management Board and Frank Schmelzer will be responsible for the SAP business unit as member of the Management Board.
In addition, the Supervisory Board of ORBIS AG appointed Thomas Gard as Chairman of the Management Board and Stefan Mailänder as Deputy Chairman with effect as of October 1, 2018. In the future Thomas Gard will be in charge of the Market and Strategy division, while Stefan Mailänder will continue in his role as Chief Financial Officer.
By enlarging the Management Board, ORBIS continues to pursue international growth and intends to seize the opportunities that the process of digitalization bring - ranging from customer engagement, the digital factory to the digital company. In order to do so, the corporate structure is geared towards a sustainable business model.
Following a successful first half-year, ORBIS increases its business forecast for 2018. On the basis of preliminary figures the Group sales rocketed by 11.1% year-on-year to EUR 27.68 million (previous year: EUR 24.92 million). The operating result (EBIT) rose by 19.2 % to EUR 1.46 million in the reporting period in contrast to the previous year (previous year: EUR 1.23 million).
Earnings before taxes (EBT) grew by 31.8 % to EUR 1.49 million (previous year: EUR 1.13 million). The consolidated net income after taxes and minority interests of ORBIS AG was raised by 8.7% to EUR 734 000 (previous year: EUR 675 000), which corresponds to earnings per share of 8.7 cents (previous year: 8.0 cents per share)
As of June 30, 2018 the number of employees has risen by 11.2% to 457 (previous year: 411).
Given the positive performance in the first half of the year, the predominantly positive business prospects, the effects of the majority stake in the Dutch SAP consulting partner Quinso B.V. as well as the resulting consolidation in the second half of 2018, the company adjusts its financial outlook. For this year we therefore expect an increase in sales of > 12 % and an increase of operating earnings (EBIT) of > 25 % compared to the previous year. The mid-year figures will be published on August 28, 2018.
Contact:
Dr. Sabine Stürmer, Head of Investor Relations at ORBIS AG
Tel: +49 (0)681 99 24 605, E-Mail: sabine.stuermer(at)orbis.de