Data One GmbH becomes part of the ORBIS Group: ORBIS AG acquires all shares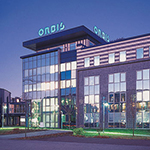 In January 2020, the internationally active software and business consulting company ORBIS AG from Saarbrücken acquired 100 percent of the shares in Data One GmbH, also based in Saarbrücken. As an SAP and Microsoft Gold Partner, Data One specializes in advising companies on the development and implementation of their individual digitization strategy. The company, which generated around ten million euros in sales in 2019 with more than 100 employees, will continue to operate independently in the future as part of the ORBIS Group.
For the ORBIS Group, the integration of Data One and the associated gain in expertise, particularly with regard to the SAP cloud, the Microsoft Modern Workplace and digital innovation topics, represents a strategically important building block for continuing its growth strategy. Both companies intend to use the resulting synergies to offer their customers and potential new customers an even broader range of services.
With the acquisition of Data One, ORBIS is expanding its consulting and service portfolio in the Microsoft area, particularly with regard to the Modern Workplace with Microsoft Teams, Power Apps and Office 365. Furthermore, Data One brings extensive expertise in technical consulting for cloud or hybrid infrastructure solutions and has additional resources in Microsoft SharePoint and Power BI. ORBIS also benefits from Data One's consulting portfolio in the SAP area, for example with regard to the HR cloud solution SAP SuccessFactors, the ERP cloud application SAP Business ByDesign and SAP S/4HANA Cloud. Innovative topics such as chatbots or blockchain will be jointly pushed in the future. As a member of the ORBIS Group, Data One GmbH has greater national and international market access and can also offer its customers the ORBIS service portfolio.
"The merger with ORBIS not only makes us one of the largest employers in the IT sector in Saarland, but also allows us to better expand our business nationally and internationally and to tap into new customer groups," explains Jochen Herbst, Managing Director of Data One.
Michael Jung, Member of the Management Board at ORBIS, continues: "Thanks to Data One, we have gained competence within the ORBIS Group, especially in digital innovation topics. This means we are ideally equipped to meet future market requirements and create the basis for further growth."
About Data One
As a medium-sized consulting company, Data One has been supporting customers in successfully digitizing their business and work processes since 2004. From its locations in Saarbrücken (Germany), Zurich (Switzerland) and Mäertert (Luxembourg), more than 100 employees support companies in optimally exploiting the opportunities of digitization. Data One has made it its mission to competently assist customers in developing an individual digital strategy. The consulting focus is on the areas of modern workplace, digital business processes and cloud solutions. Based on state-of-the-art SAP and Microsoft solutions, the Data One product portfolio ranges from SAP SuccessFactors to SAP Cloud ERP with Business ByDesign and BI solutions to Microsoft Office 365, SharePoint, Azure and Nintex. As a long-standing SAP and Microsoft Gold Partner, Data One incorporates proven best practices into every single project and offers rapid implementation with full cost transparency. At the same time, Data One offers customers a holistic consulting approach: from process consulting, licensing as well as software implementation and in-house development to training, long-term support and hardware. In line with the motto "Digital Business is our Passion", Data One focuses on innovative, future-proof technologies. The "Digital Agency" business unit, for example, is dedicated exclusively to modern trend topics in order to provide customers with forward-looking advice at all times.
For further information, please visit www.orbis.de
or contact
Dr. Sabine Stürmer, Head of Investor Relations at ORBIS AG
Tel: +49 (0)681 99 24 605, E-Mail: sabine.stuermer(at)orbis.de